Government under pressure to change election code
By Gvantsa Gabekhadze
Thursday, March 10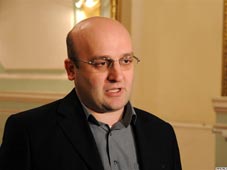 The ruling party presented its suggestions regarding election reform, on March 9. As representatives of the National Movement, Pavle Kublashvili stated during the press conference they have adopted three initiatives and the rest will be voiced in CEC, in the format of 8 oppositional factions working on improvement of the election environment.
The ruling party agrees on forming an election list based on bio metric data as a pilot program, however only in Tbilisi and only if the program is financed by donor organizations, "GEL 30-40 million is required for forming the bio metric election lists. We are ready for this, if donor organizations finance it and will be carried out only in Tbilisi. Herewith, we are ready for the independent candidates' institute to be restored and those people, who are not a member of any party, will be allowed to participate in the election. We are also ready for those prisoners, who have committed unpremeditated crime and are imprisoned for less than three years to take part in elections, "Kublashvili stated and mentioned that the last two suggestions were the recommendations of OSCE and that the Governmental team is ready to fulfil the recommendations.
The oppositional representatives claimed that those initiatives from the ruling party's side were the sign of disagreement on the issue within the National movement, " the authorities' arguments regarding holding the elections with bio metric data is not serious. If we had wanted to discuss the issue at press conferences, the format of election environment would not have been created. The authorities' attitude regarding the issue indicates that inside the national movement there is a misunderstanding and disagreement concerning the matter", Mamuka Katsitadze, from New Rights, stated.
If the opportunity for fair political elections is blocked, another way will open automatically Giorgi Targamadze, leader of Christian-democrats said, "For us it is very important that there is the conduction of fair elections in Georgia. This problem cannot be decided with "facade" decisions. People would not trust anymore the possibility of fair elections in Georgia. If this will not happen, let nobody ask, what we are about to do, as the decision is left to the people, "- Targamadze said and added that," Now the main things is that Georgian people do not pay too high a price for Saakashvili's departure. In this respect we are showing maximum restraint. "
As for the position of the oppositional parties, which do not participate in the process, "while the oppositional 8 is engaged with useless negotiations with the authorities, the falsification machine of the government is performing actively. "Giorgi Gugava, From the Labour Party, stated.