US Vice President on Washington's "disagreement" with Russia over Georgia
By Mzia Kupunia
Thursday, March 10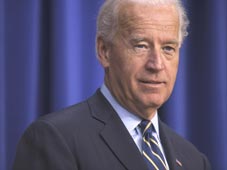 US Vice President Joseph Biden is visiting Moscow. Amid media speculation that Russia's WTO accession will be one of the key issues discussed at the meetings, Biden gave an interview to
Rosiyskaya Gazeta
newspaper, outlining the reasons for his visit to Russia. The US official reiterated Washington's position over Georgia, saying that the issue of Georgia's state borders remains a subject of disagreement between Washington and Moscow.
The Vice President said the "reset" policy of Russia-US relations assists enhancing security in Europe, adding that Washington has rejected the idea that improving relations with Russia should happen at the expense of United States' relations with other countries in the region – Poland, Baltic States or Georgia. Biden noted that the idea that Washington's commitments towards its allies are "incompatible" with stronger US-Russian ties was also rejected.
"On the contrary, we are convinced that these relations are strengthening each other. At last year's historical session of US-NATO Council in Lisbon, NATO has pledged to cooperate [with Russia] on diverse challenges of 21st century, like Afghanistan, fight with terrorism, combating piracy and anti-missile defence," Rossyiskaya Gazeta quoted Biden as saying. He reiterated that Russia and US will "not always" agree with each other on every issue. "For example we have a disagreement over Georgia's borders. However we can openly and directly express our disagreement over this and other complicated issues and work on them," Biden stated.
The US Vice President commented on the widely discussed issue of Russia's World Trade Organization accession. Biden said US and Russia have reached a "real progress" in economic relations, naming "regulating" of almost all issues related to Russia's WTO accession as one of the examples. He noted that USA supports Russia's efforts to negotiate the remaining issues with other partners of the WTO. "Russian Government has set an aim to join WTO in 2011. We support these efforts. However, of course, USA is only one of the 153 member states, with which Russia has to reach agreement in order to join the organisaiton," Rossiyskaya Gazeta quoted him as saying "If Russia shows the same decisiveness and determination as it showed during our negotiations, I have no doubts, that it will achieve entry to the WTO on time. However Russia will have to work for this."
On Monday, Tbilisi officially announced the launch of talks with Moscow on Russia's WTO accession. No precise details of Georgia's preconditions were revealed, however authorities in Tbilisi have said that the Georgian side will be "principled" during the talks, the first round of which is taking place on March 9-10 in Switzerland's capital. Georgian officials have repeatedly stated that Tbilisi will make "no compromises" with Russia over the issue of Russia's WTO accession.
"Georgia should not make any compromises. Speaking about this is irrelevant. Russia is an occupant state, which has invaded our lands, we have half a million IDPs after Russia's invasion, our villages and cities have been destroyed. Before the 2008 conflict, Russia unilaterally imposed embargo on Georgian products," MP from the ruling National Movement Party, Petre Tsiskarishvili said. He downplayed the suggestions of some analysts and opposition politicians that Georgia should demand opening Russian markets for Georgian goods in return for agreeing to Russia's WTO accession. Tbilisi says it will demand "legalization" of border crossing points at Psou and the Roki tunnel in Georgia's breakaway regions of Abkhazia and South Ossetia in return to Russia's WTO aspirations.