Brazilian legend of jazz is back to Georgia
By Salome Modebadze
Friday, March 11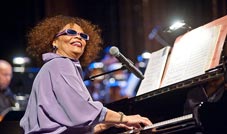 Prominent Brazilian jazz vocalist Tania Maria will hold a concert for a Tbilisi audience at the State Philharmonic Hall. The Brazilian-style music of Tania Maria is mostly vocal and unites Samba, Bossa nova, Afro-Latin, Pop and Jazz fusion. With her amazingly entertaining melodies the Brazilian vocalist received worldwide acclaim among various audiences. As a participant of international jazz-festivals and earning a nominee for a GRAMMY Award, she has already made an important mark on the development of musical culture worldwide.
"Lots of things have been said about Tania Maria and it will be difficult to say something new about her. Compositions of the Brazilian vocalist unite various musical genres and make her performance interesting and entertaining. With her successful musical career Tania Maria became one of the brightest representatives of the ethno-jazz performers," Georgian jazz vocalist Maia Baratashvili told
The Messenger
. "Tania Maria has been to Georgia so many times that she has become part of us, the Georgians and I feel she would even deal with the Georgian repertoire if necessary," Dini Virsaladze, the famous Georgian pianist, stated.
Arriving at the official presentation of
Bravo Records
- the first western-type musical business company on March 16, Tania Maria will deliver a 90 minute concert uniting her old and new compositions especially for the presentation. The Georgian audience had the wonderful opportunities to attend her concerts in 1995 and 2002. In 2008 the jazz legend also participated in the Black Sea Jazz Festival.
Uniting the music recording studio, publishing house and record label, Bravo Records will provide efficient career management for musicians. The company will release authorized audio-video materials not only on the local market but on an international level thus promote the musicians worldwide. "record label is an unprecedented project for the whole Caucasus and has no analogues in the region. The studio will not only make authorized records but also serve discovering new talents. Promotion of Georgian musicians through effective concert tours will also be the important part of the activities of the record label," Nika Apriashvili Head of Marketing Department of
Bravo Records
told
The Messenger
.
The solo concert sponsored by Bank Republic Societe Generale Group, Efes beer, Chateau Mukhrani, Redix, Volkswagen, Elit-Electronics, JSC Madneuli and Kvartsiti offers an unforgettable event at the State Philharmonic on March 17. Rustavi 2, Imedi TV, Newspaper Prime Time and M-Group provide media partnership. The concert starts at 20:00. Tickets are available at the box offices of the Philharmonic Hall for GEL 30-100.