American tycoon Donald Trump confirms major Georgia investment
By Etuna Tsotniashvili
Monday, March 14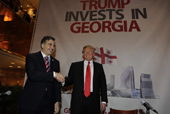 An agreement between the Trump Organization and Silk Road Group was signed in New York on Thursday according to which a residential building and a hotel will be constructed in Batumi and Tbilisi. Overall, the American billionaire will invest 250 million USD in Georgia.
Especially for this event Mikheil Saakashvili, President of Georgia, visited the USA and attended the signing ceremony, later on Saakashvili and Trump Organisation president Donald Trump held a joint press conference.
Donald Trump stressed his attention on the success and reforms carried out in Georgia. Mikheil Saakashvili thanked him for those changes that he fulfills all around the world, now including Georgia. During the press conference Donald Trump noted that he would visit Georgia by all means.
"I think it is a really great start, because this is a country with amazing leadership and it shows what can happen to a country. Now this is a case when a small country which is becoming a very powerful country economically, showing what can happen with proper leadership," Trump told the journalists.
"It is the number one economic reformer in the world during the last five years and that is according to the World Bank. The number one fighter of corruption in the world and that is from Transparency International - that is one hell of an achievement, thank you for that. Number one easiest country to do business in Eastern Europe and Central Europe, that is according to the World Bank," Trump stated. "This one I am a little bothered - it is the second safest country in Europe. Come on, we have to get with that, I am not like you, I bet for the next time you are going to be the first. That is also considered one of the safest countries in the world. This has happened over a measured period of time," he added.
In his response Georgia's President thanked the American billionaire and told him that Georgia wants to be next in his line of achievements and the next great accomplishment. "Thank you for that and thank you for changing, for your business, for changing this country and for changing the world and certainly my country among them," Saakashvili said.
Saakashvili talked about Batumi where one of the towers will be constructed saying that it will be something very grandiose but the whole place is becoming absolutely exclusive for the whole region..
Meanwhile foreign media actively covered the event. The
New York Times
in its article
Trump`s foreign approach
writes that "For Georgia's president, it was a chance to show that his country, the former Soviet republic, is grand enough to attract the world's best-known real estate developer. And for that developer, Donald J. Trump, it was yet another opportunity to demonstrate that he is world class." The newspaper also says that Mr. Trump will not actually build the towers. "At this point in his career, he is more inclined to license use of the Trump name on someone else's building than develop a property himself — although he still occasionally erects skyscrapers, like Trump World Tower in New York,"
The New York Times
reports.
Eurasianet in the article Georgia: Enter The Donald writes that Foreign investment in Georgia dipped by 6.6 percent during the first three quarters of 2010, compared with the preceding year, to stand at $433 million. The hope is that Trump's international reputation as a celebrity real estate developer will help reverse that trend.
"But whether or not Trump himself is actually putting money into the project -- to be implemented with the Tbilisi-based Silk Road Group, a property developer -- is unclear," it reports.