Georgia offers support to Japan
By Gvantsa Gabekhadze
Tuesday, March 15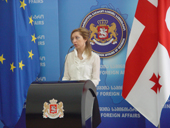 Nino Kalandadze, Deputy Foreign Minister announced yesterday that Georgia is ready to assist Japan.
"Japan is the country which has always stood beside us both economically and politically. We are ready to send a rescue team to Japan, which has suffered a devastating earthquake and tsunami. At the same time discussions are underway within the Georgian government concerning financial assistance for the country," Kalandadze said.
Kalandadze mentioned, "Georgia has already spoken about the issue with Japanese officials and they welcomed our suggestion."
The deputy minister stated that Georgian citizens who are officially registered in Japan are safe, "as for those who live there illegally or are on some private visit, we do not have any information about them, as they have avoided contact with the embassy; however since very few people live illegally in Japan, we hope that there are not many Georgian citizens."
According to the Georgian Ambassador to Japan, Revaz Beshidze, Georgia has information on 38 Georgians in Japan, "We made contact with one Georgian citizen of whom we did not have any information, yesterday. Currently, we have intensive contact and full information on 38 Georgians living in Japan."
In addition to those people, Georgian wrestlers returned to Georgia from Japan yesterday on a Turkish Airlines flight, which took off from Japan soon after Japan's airspace re-opened.
The chairperson of the Georgian Olympic Committee greeted the sportsmen at Tbilisi airport; none were harmed in the disaster.
Besides the problems which the tragedy has already created for the world, there is also an effect on vehicle importing companies in Georgia. Auto-Trader representative, Gia Meskhadze commented, "It is completely unclear how we might bring Japanese cars into the country. Even the Japanese auto dealer is unable to answer the issue or to tell us what might happen in the future."