Pioneering record label launched to promote musicians
By Salome Modebadze
Thursday, March 17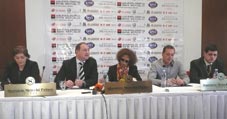 Bravo Records
- the first western-type musical business company in Georgia was ceremonially opened on March 16. Uniting the music recording studio, publishing house and record label,
Bravo Records
will provide efficient career management for musicians. The company will release authorized audio-video materials not only on the local market but on an international level thus promoting the musicians worldwide. The record label is an unprecedented project for the whole Caucasus. The studio will not only make authorized records but also serve in discovering new talents. The promotion of Georgian musicians through effective concert tours will also be an important part of the activities of the record label.
Encouraging the businessmen to help promote the musical market in our country, Zaza Shengelia, the Founder of
Bravo Records
encouraged them to put more money in to music development. "Everything has been done here for encouraging the musicians to be oriented on music. Creation of a high quality musical product requires the relevant business environment, which Georgia lacks nowadays. The musical industry should develop in our country through unification of creative, economical and legal foundations on which the musicians could be promoted not only on the local market but worldwide," Shengelia said expressing his great support towards the musicians.
Steve Plats, the famous British producer presenting Funky Junk Company, thanked Shengelia for his trust in putting together the studio. "Neither technical equipment, nor the location had been as important for Zaza as the quality… He wanted to bring the standards of Western Europe so that the standard (of the studio) matches US and European quality," Plats told the guests. "It's my home, I feel home, it's wonderful! I'm very happy because Zaza's dream has come true. I want to congratulate you that Bravo exists," Brazilian musician Tania Maria said and welcomed the opening of the high-quality Georgian studio.
Minister of Culture and Monument Protection Nika Rurua and the Mayor of Tbilisi Gigi Ugulava also expressed their readiness to encourage the protected musical industry in Georgia and hoped that this studio would bring success to the musicians.