OSGF presents 2010 evaluation of ENP EU-Georgia Action Plan implementation
Thursday, March 17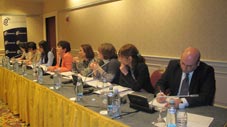 Open Society Georgia Foundation, together with its partners, presented a monitoring report "European Neighbourhood Policy: Implementation of the Objectives of the EU-Georgia Action Plan." The document outlines efforts taken by the Georgian government in 2010 in terms of meeting obligations and achieving goals set forth in the ENP Action Plan.
The document includes several findings in respect of amendments to the constitution, improvement of the electoral environment and efforts addressing promotion of free and independent media in Georgia. "The power balance between the different branches of the government is the subject of criticism. The new draft constitution leaves many questions open including the distribution of power," the report reads. According to the document, judiciary independence remains problematic.
When speaking about the findings in terms of media, member of the Public Broadcaster Public Board, Nino Danelia said independent media is still "fragile." She stressed that transparency of media owners and the financial interference in the media market by the state is an "important issue." Danelia noted that there is a threat of monopolization of the media market in the country. She cited the establishment of a company GMG, which unites several major TV companies, including Imedi TV and Rustavi 2, as an example. Danelia claimed that receiving public information from government agencies, including the Tbilisi Mayor's office has become "extremely difficult."
The representatives of the Georgian NGOs said at the presentation of the report that despite implemented reforms, the electoral system is "still far" from being a system that ensures a politically competitive environment in equal conditions. "The institutes of state administrative system do not perform in compliance with democratic principles. Decision making and policy implementation often violate the procedures that regulate the functioning of the public service," the report reads "In this respect, the non-transparency of public finance management and the weak control over the reasonability of implemented activities are especially evident," it continues. According to the authors of the report, there are "many questions" with regards to the transparent process of privatization and fight against the elite corruption. "Besides, the current economic policy does not pay due attention to the issues of poverty reduction and incentives for social integration," the document reads.
The EU-Georgia European Neighbourhood Policy Action Plan was launched in 2006 followed by the Eastern Partnership Programme in 2009, which aims at improving the relations of the EU with six post soviet states – Belarus, Ukraine, Moldova, Georgia, Armenia and Azerbaijan.