Kobalia not welcome in Israel as feud continues
By Gvantsa Gabekhadze
Tuesday, March 22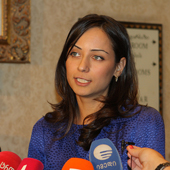 Israel does not wish to see Vera Kobalia, Georgia's Minister of Economy and Sustainable Development, at the International Tourism Conference in Israel, internet portal Izrus reported on March 21.
The website says the International Tourism Conference is to be held on 29-31 March in Israel. Vera Kobalia was to take part in the conference.
According to the article, on March 19, an influential Israeli journalist, Ben Kaspit, published an article on NRG, where he says it would be good if Kobalia delayed her visit. The journalist advises the Israeli Tourism Minister to show Kobalia that nobody is waiting for her in Israel. The motive behind this is the trial of Israeli businessmen in Georgia, which significantly strained relations between Georgia and Israel.
In early January the journalist criticized Mikheil Saakashvili and the Georgian government, accusing them of "applying mafia methods". "Georgia cannot understand that the scandal may marginalize them, and that Israel and the international community will never forget the scandal', the journalist said.
In addition, Izrus said last week that the Israeli Tourism Minister decided not to meet Kobalia. The portal reports that Kobalia will not arrive in Israel.
This information was not confirmed by the Georgian side, as Deputy Foreign Minister, Nino Kalandadze stated on March 20, "we have no official information regarding Vera Kobalia's visit to Israel from the country's representation in Georgia, "Kalandadze stated and mentioned that, "we have very active relations with Israel's ambassador. We are holding negotiations on starting consultations and the Israeli side expressed significant interest concerning the issue."
Prime Minister Nika Gilauri refrained from making any comment regarding the issue, one he has mentioned was that, "Georgia has already become a tourist centre for the citizens of Azerbaijan, Armenia and Turkey and we wish to increase the target area and see the tourists from Israel and western countries in Georgia."
The Georgian opposition blames the authorities for making a bad political step, which spoils Georgian-Israel relations, "due to the Georgian authorities' decision regarding imprisonment of Israeli businessmen, the two countries' relations significantly strained. The current situation seriously damages our country's image in the international community. That is why we appeal to the Georgian Government to correct the mistake and release the two businessmen, "leader of Conservative Party, Zviad Dzidzigulri said. At the same time, Dzidziguri and leader of People's party, Koba Davitashvili, have offered to assist the businessmen.
Comment has also been made by the Chair of Georgian Party, Sozar Subari , on the issue, " it is logical that Israel stopped contact with Georgia's current leadership. Step by step, the world can see the hard conditions in which Georgian people have to live. Lately, Israel's Government was convinced of it, which, as a response to the illegal imprisonment of its businessmen, refuses a meeting with Parliament Chair, Davit Bakradze and Minister Kobalia."