Georgia to send drinking water to Japan
By Mzia Kupunia
Tuesday, March 22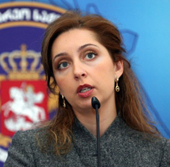 Georgia is ready to send 45 tons of drinking water to earthquake and tsunami troubled Japan, the Georgian Deputy Foreign Minister, Nino Kalandadze said on Monday. According to Kalandadze, the humanitarian aid will be sent "as soon as there are technical capabilities to do so."
"The Georgian Foreign Ministry is in constant contact with the Embassy in Japan and we were informed that at this stage Japan has no resources to accept Georgian humanitarian cargo and rescuers," Kalandadze said, noting that earlier Tbilisi expressed its readiness to send medication and items of first necessity to Japan. "Japan is ready to accept only monetary aid for now. However, Japan has informed about a need of drinking water. In relation with this Georgia is ready to send 45 tones of water to Japan," the Deputy Minister noted.
Official Tbilisi says that Georgia is not planning to evacuate its diplomatic staff and their families from Japan so far. "Radioactive Iodine and Zinc was found in drinking water in Tokio. It is not dangerous for health, however this fact is anyway a reason for concern," Kalandadze said "Despite this fact, an official evacuation [of Georgian diplomats in Japan] has not been announced. We keep an eye on the developments [in Japan] and if the situation does not stabilize, we will make a decision on evacuation," she added.
The Georgian Foreign Ministry informed media that the Georgian citizens, remaining in Japan have refused to leave the country, despite the fact that Ukraine has offered assistance in evacuating them. "The representatives of the Ukraine Embassy contacted the Georgian Embassy in Japan and told them that they can evacuate Georgian citizens with the Ukrainian Emergency Situations Ministry's plane, which will deliver humanitarian aid to Japan," Kalandadze stated.
According to the Deputy Minister, currently the Georgian Embassy in Japan is in touch with 24 citizens of Georgia, 23 of which have refused to leave the country. "During the day they have a chance to change their mind and if they agree to be evacuated, they will be able to return to Georgia with the help of our Ukrainian partners," she said, adding that the Georgian side is also ready to send a plane to evacuate its citizens from Japan if the Georgian citizens decide to leave the territory of Japan.