Saakashvili embraces ethnic Azeris in Georgia
By Gvantsa Gabekhadze
Wednesday, March 23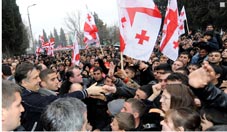 Having an understanding among various ethnic groups, living in the country and being a part of the common Georgian state is the most important of all the achievements made in recent years, President Saakashvili said on March 21, while visiting Marneuli in Kvemo Kartli region, predominately populated by an ethnic Azeris, where he participated in Nowruz festivities.
"The fact that you feel part of Georgian society and this country, makes me more proud than new roads (which of course is a reason to be proud), those beautiful buildings which have been, and are being built, new education system (which in future will guarantee our success) and all other achievements which Georgia has made. The main target of the current Government is to create a state, where all its citizens, regardless of his ethnic and religious viewpoints, feel that he or she is an indivisible part of Georgia." The President stated.
Saakashvili also mentioned that, "It is very important to maintain our Azerbaijani culture, our Azerbaijani language, which is an integral part of Georgian culture and of the Georgian state, at the same time. I am glad that you are learning the Georgian language at schools because this is a guarantee for your success in our unified Georgian state."
Saakashvili visited Marneuli district of the Kvemo Kartli Region where a new trade center Smart will be opened soon. The trade center will include shops, cafes, Wi-Fi zone, drug store, bank and a children's corner. The trade centre will have two movie theatres for 150 spectators.
The Georgian President also visited a Georgia-Azerbaijan culture centre, which is being constructed by Socar Oil Company and a rehabilitated sport complex. The rehabilitation was completely funded by Azerbaijan's government. The multi-functional complex will host high-level international tournaments too.
During the visit to Marneuli, the President went to the local agriculture market and talked with locals about prices of food products.
Nowruz, a holiday marking spring equinox, which is widely celebrated by a large Muslim community in Georgia, was declared as a national holiday in Georgia last year.