IFC Conference Supports Development of Georgia's Agricultural Sector, Aims to Boost Economy
Wednesday, March 23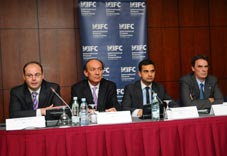 On March 22
A conference organized by IFC, a member of the World Bank Group, is bringing together government and private sector leaders to discuss the development of Georgia's agricultural sector and to share IFC's global experience in supporting agribusiness.
The conference aims to build a broad coalition of stakeholders who will work together to maximize Georgia's agribusiness potential. Georgian government representatives, including the Minister of Agriculture, joined IFC experts at the conference, along with banking and insurance industry executives. Expanding access to finance, improving food safety, and developing the agri-insurance industry are key priorities, all of which will ultimately boost the national economy.
"The development of our agricultural sector is one of the most important priorities of the Georgian government," said Bakur Kvezereli, the Minister of Agriculture of Georgia. "Georgia's agricultural potential is very big and it can bring significant benefits not only to peasants and farmers, but for potential investors as well. That is why such a conference is very important, to discuss development of Georgia's agri sector and ways to support agribusiness."
In many countries of Europe and Central Asia, agribusiness accounts for a significant proportion of employment, but remains at low productivity levels due to weak value chains. In Georgia, more than half of the country's population is employed in the agribusiness industry.
"IFC has made agribusiness a global and regional priority because of its development impact and strong role in creating jobs and contributing to growth," said Guy Ellena, IFC Regional Director of Manufacturing, Agribusiness, and Services Department, Europe, Middle-East, and North Africa. "We combine investments and advisory services to help the sector address higher demand and escalating food prices to alleviate the world food crisis. We are ready to help Georgia, a country with rich agricultural traditions, realize its agricultural potential."
In Europe and Central Asia, IFC has a portfolio of around 40 clients and $600 million exposure, with investments across the entire value chain. As part of IFC's regional strategy focused on agribusiness, the IFC Georgia Food Safety Improvement Project helps improve food safety practices among Georgian food manufacturers to boost the competitiveness of local food producers and increase food exports.
Georgia has been a member of IFC since 1995, and since then IFC's cumulative investments in Georgia total nearly $500 million in 36 projects across a variety of sectors. Through its Advisory Services, IFC is working towards reform of Georgia's tax system to benefit small businesses, and also is helping raise food safety standards.