Stalling legislation irritates media and NGOs
By Gvantsa Gabekhadze
Wednesday, March 23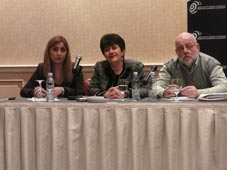 A number of media organizations and non-governmental groups called on the lawmakers to speed up the passing of media-related bills, including one designed to make broadcasters' ownership transparent, on March 21.
"We appeal to the Parliament of Georgia to speed up discussing the draft regarding media transparency initiated by the majority representatives. At the same time we appeal to the law makers to discuss another draft regarding the issue, made by media analysts, which foresees 8 changes to the law, "the statement reads.
Based on Media analyst, Zviad Koridze, it is very important for the development of democracy in the country that media information is transparent and that public information is available, "the Government should open information on the owners of TV companies and on their financers. This should be regulated by the law and the adoption of the law should not be postponed."
Herewith, problems regarding the issuing of frequencies and licences have been pushed forward, "there are a lot of critics regarding the Communications Regulative Commission. The Commission either does not have or does not make public views on society demands and the demand of the society is the existence of journalistic investigations on TV channels, "Eliso Chapidze, deputy Editor of Rezonansi newspaper, said.
Two weeks ago, senior lawmakers from the ruling party and parliamentary minority said "an agreement in principle" was reached on the final version of a draft of amendments to the law on broadcasting.
This draft, which has already been passed with its first reading in early December, if approved with its second and third readings, will ban ownership of broadcasters by offshore-registered firms. Citing the need of further consultations and improvement of the draft, particularly in respect of financial transparency of broadcasters, it was decided back in December to postpone its final approval.
On March 11, senior lawmakers said that the final wording of the draft would have been formulated at a hearing of the parliamentary committee on sector economy a week later, but no new development has been reported since then.