Tbilisi hosts NATO PA Rose-Roth Seminar
By Mzia Kupunia
Thursday, March 24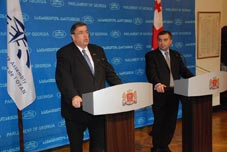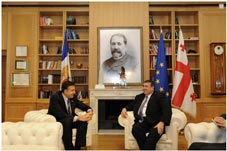 Georgia's capital hosts the 76th Rose-Roth Seminar of NATO Parliamentary Assembly. The seminar opened on Wednesday with Georgian Parliament Speaker Davit Bakradze's speech at Courtyard Marriott Hotel. Georgia's NATO aspiration is Georgia's wish to settle its place on the world political map, Bakradze said in his opening speech, adding that it is the "wish of the Georgian society."
He outlined the reforms carried out in Georgia since the Rose Revolution and pointed out that Georgia went through a "comprehensive and notable modernization" since 2003. "The process was very complicated," the Parliament Speaker said "I do not want to give you the impression that everything is fine in Georgia. No, the country is still in the process of restoration. Sometimes we make mistakes, but I can assure you, that the country is on the right track. We have a political will to become more democratic," he added.
Bakradze touched upon the political situation in the country, claiming that the "political modernization in Georgia is becoming very complicated." "Political confrontation has become a national sport in Georgia," the Parliament Speaker said "Our main aim is to establish a political process, to establish the tradition when the relations between the opposition and the government will be held through dialogue," he noted.
The Georgian Parliament Speaker focused on Russia-Georgian relations as well, saying that he still does not know "what Russia wants" and that Tbilisi is ready for a dialogue. "We are ready for launching a dialogue at any level with Russia, despite the fact that we still have no answer to the question what Russia wants from Georgia. We have not received a specific answer during all these years from the authorities of the Russian Federation," Bakradze noted "It is unclear for us whether we should be their allies or join the Russian Federation as part of their region," he said. Bakradze expressed hope that Russia will answer the question, which will make it "easier" to start negotiations.
Bakradze suggested Russia is "acting childish" by refusing to make a non-use of force pledge citing that "it is not part of any conflict" as a reason. "How can Russia not be part of the conflict when it bombed Georgia, when its military units are still deployed several kilometers from Tbilisi?" Bakradze stated.
President of NATO Parliamentary Assembly, Karl Lamers pledged to help Tbilisi in starting the dialogue with Moscow. Lamers stressed that the conflict should be resolved peacefully, adding that conflict resolution is never an "easy process" but "not an impossible one." "I am convinced that dialogue between Georgia and Russia will take place. We all know that the conflict cannot be resolved easily. We need patience. I am sure that together we will manage to achieve this," Lamers noted.
The German lawmaker hailed Georgia as a "young and dynamic" state which is on its way to "democratization". He recalled the first seminar in Georgia in 2002 and 2007, saying that the current seminar is being held in a "completely different" Georgia. He pointed out that Georgian administration is building a "competitive" economy, fighting corruption and has set a "clear aim" to integrate into NATO. He hailed Georgia's participation in NATO international missions. Lamers named resolving conflicts in Abkhazia and South Ossetia as Georgia's challenges on its way to NATO integration. NATO Parliamentary Assembly President stressed the importance of "peaceful resolution" of conflicts.
Georgian Reintegration Minister, Eka Tkeshelashvili also spoke about Georgia's breakaway regions of Abkhazia and South Ossetia during her speech at the NATO PA seminar. "Unfortunately, when we analyse the existing situation, it becomes clear that we should not expect the conflicts to be solved soon. We have no hope for this, however we should not be skeptical about the start of this process either," Tkeshelashvili noted "We believe, that step-by-step we will still achieve this together with our partners," the Minister stated. She suggested that as time goes by the "mistrust" between the people "increases." "We have no illusion that the conflict can be resolved only by regulating the relations between the people. However we should pay attention to these relations. Regulating the conflict will not be easy and all aims will not be reached soon. We should keep in mind that we depend on the force, which carried out the occupation," the Minister said.
The President of Georgia, Mikheil Saakashvili, met the President of NATO Parliamentary Assembly at the President's Palace. During the meeting Karl Lamers reiterated his support to Georgia's territorial integrity and sovereignty and positively evaluated all steps Georgia has made for the membership of North-Atlantic Alliance. The sides discussed the ongoing processes that take place in the country and stressed their attention on the democratic reforms that were carried out in Georgia. As Karl Lamers noted these reforms carry vital importance for the country that strives towards NATO membership. During the meeting Karl Lamers positively evaluated the methods and achieved results of fighting corruption and said the important success and progress in this direction was clear for all to see.
The 76th Rose-Roth Seminar of NATO PA, which started on March 23, will end on March 25.