Kobalia on Georgia's economic achievements
By Messenger Staff
Thursday, March 24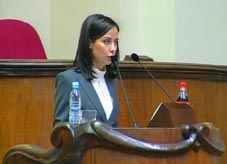 In the frameworks of Government Week in parliament on March 22 Vera Kobalia, the Minister of Economy and Sustainable Development addressed the Parliament.
The Minister named the creation of workplaces and improvement of the social conditions of the citizens as the core priority of the governmental team and the ministry itself. "In conditions where the unemployment rate exceeds 16%, many people have to be concerned about meeting basic needs and solving everyday problems. The latest initiatives of the Government, such as the program of vouchers serve this purpose", the Minister explained.
Kobalia introduced the situation with respect to the foreign trade, investments and privatization to the MPs. She also spoke comprehensively regarding the development of tourism, transport and industrial sector in the country.
"Against a background of the international crisis and the 2008 War the country's economy has experienced a 4% drop, however, it became possible to return to economic growth in 2010. We are sure that we can sustain this trend and will more strengthen thereof," Kobalia stated to the MPs.
When speaking about the strengthening of the local entrepreneurship base and the significance thereof, the Minister stated that substitution of import and creation of export goods should take place gradually. "There has been almost nothing produced in Georgia and the main export product was scrap metal. Last year a big amount of metal armature was exported from Georgia, which is produced from the scrap metal that would otherwise be exported," the Minister stated. According to her statement, export of wood materials decreased by 63%, instead of which the export of locally made furniture has increased.
According to the Minister, production and export of such materials as textiles, medications, paper goods, and nitrogenous fertilizers has increased in the country. According to her statement, the EU has a significant place among our export markets, to where 23.7% of goods are exported. This proves that not only is Georgian production increasing but also the quality of products and the professionalism of the working force. According to the information of the Minister, in 2010 total export from Georgia has increased by 39.7%.
As regards tourism, Vera Kobalia stated that the number of foreign visitors in 2010 exceeded 2 million, which is 36% higher than the last year's indicator. According to her prognosis, the number of tourists will exceed 3 million before the end of the year.
According to her statement, development of Adjara, Anaklia, Mestia and other tourist areas will foster development of business in the field of agriculture, transport, services, and different sectors, ad therefore, the creation of workplaces.