Georgian and Croatian officials cement ties in Tbilisi meetings
By Messenger Staff
Friday, March 25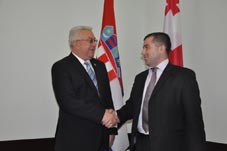 On March 23 at meeting David Bakradze and Luka Bebic discussed the existing relations between Georgia and the Republic of Croatia, and the perspectives of deepening relations in the future. After the completion of the meeting, the chairmen of the parliaments of the two countries held a joint briefing.
According to David Bakradze's statement, Georgia and the Republic of Croatia are connected with similar aspirations, and reforms, which Croatia has successfully completed and Georgia has been in the stage of their implementation currently. Thus, the Chairman of the Parliament of Georgia considers that sharing the experience of Croatia is very significant for Georgia.
"The Republic of Croatia is a very successful example and a model of how a country located in the complex region, which faced problems caused by the war, could be successful and a model of reformer for the whole region, by becoming a NATO member and candidate for the EU membership",- the Chairman of the Parliament of Georgia stated.
Luka Bebic thanked David Bakradze for invitation to Georgia. According to him, it will foster development of close relations between the two countries. At the briefing he spoke about the ongoing accession negotiations of Croatia with the EU, and that it is planned to sign the accession agreement this year. "Croatia is ready to share experience its experience in this direction with the friendly state Georgia. I hope Georgia will soon start negotiations about the membership with the EU",- the Chairman of the Parliament of the Republic of Croatia stated. He noted that Georgia and Croatia are historically connected by the struggle for freedom, and expressed hope that the united efforts towards the European aspirations will continue in the future as well.
"Once Croatia becomes the EU member state, Georgia will have one more reliable and stable partner, which will support Georgia's integration into European structures", - the Chairman of the Parliament of the Republic of Croatia stated.
David Bakradze expressed hope that after the visit to Georgia the relations between Georgia and Croatia will become more intensive at the parliamentary level as well. It is expected that a Georgian parliamentary delegation will visit Croatia in the summer.