Subeliani defends relocation of IDPs
By Gvantsa Gabekhadze
Friday, March 25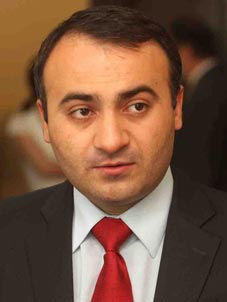 The Minister of Internally Displaced Persons from the Occuppied Territories, Accommodation and Refugees of Georgia, Koba Subeliani presented the report to the Parliament as part of the Government's week to the legislative body, on March 24. Debates between opposition and majority representatives turned out to be both strong and ironic at the same time.
"We are surprised by the accusations about evicting refugees. But in fact this was not an eviction we simply made the replacement. We have replaced their temporary shelter places with new accommodation. None of them were settled densely, "- Refugees Minister said .He noted that their living conditions were hard, and the shelters were temporary only, "These people were victims of the 2008 war and there were also 90s refugees from Abkhazia. We have studied their living conditions and many of them appeared to have separate living spaces. It is natural we could not give them accommodation for the second time. Many of them were already given compensation to purchase of property. Among them were those who had nothing. We suggested different places for living, such as in villages in Kakheti and other parts of Georgia."
The opposition had a number of remarks to make regarding Subeliani and his Ministry, "after 2008 refugees are not given status. No infrastructural works are carried out until their eviction, which creates hard living conditions for them and causes obstacles for their employment. Their eviction process does not fit in legal frames as there has not been any agreement or court decision, "Giorgi Targamadze, Leader of Christian Democratic Movement, said. Another representative of the Movement , Magda Anikashvili, pushed the health issue regarding IDPs, as she has mentioned, health service is unavailable for refuges, when they have to live in dampness in the houses built for them after the August war, which created additional health problems for them, besides the horrendous psychological impact from the military operations, " instead of paying more attention to those people's health condition, they have been left isolated and due to the inexistence of transport they are unable to see a doctor."
In response to Anikashvili's accusation, the Minister stated that after the war, the authorities moved the refugees to the newly built houses from tents in three months and "of course, all the houses were not completely dry. However, it is more important that refuges do not have to live in tents. Of course there were some shortcomings, but the most important work was done."
Jondi Baghaturia , leader of the Georgian troupe, blamed Subeliani in misusing sums allocated for the refugees and mentioned that, " the opposition would launch an impeachment process of Subeliani for corruption activities. Concerning the finances, Subeliani stated that, from the donor organizations' assistance, nearly GEL 140 Million has been spent and from the state budget nearly GEL 130 million for the refugees.
Opposition remarks and statements angered Majority representatives, "your behaviour has turned into political unscrupulousness and we have heard a lot of wrong and unacceptable phrases and statements from oppositional representatives, "MP, Petre Tsiskarishvili, said. The opposition has problems with its conscience, fellow MP, Akaki Minashvili, said, "Subeliani really worries when there are some problems regarding refugees, when those who criticize him are not interested in those 27 000 people's fates at all."