Opposition call for Minister of Agriculture to resign
By Salome Modebadze
Friday, March 25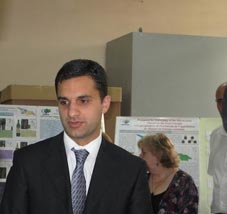 Wednesday's address of the Minister of Agriculture Bakur Kvezereli caused irritation among the opposition representatives. Kvezereli shared with MPs the priorities for agricultural development, like promoting agricultural products, developing infrastructure, cattle-breeding and cereal breeding programs. Discouraging the strategies and action plans introduced by Kvezereli, the Christian-Democrats Parliamentary faction demanded the immediate withdrawal of the Minister.
"The political course and reforms of the sector have brought great drawbacks to Georgian agriculture. This sector needs more public engagement for defining the relevant course of development," CDM members stated. Asking the Government to pass them this most "retarded Ministry" Nika Laliashvili MP from CDM stressed that opposition would succeed in "putting the Ministry on foot."
However CDM's demand on Minister's withdrawal was disapproved by the Majority MPs. With 10 votes against 70 Minister Kvezereli overcame the possible danger so this issue can't be raised again in at least three months according to the Parliamentary regulations. This means that Kvezereli can freely deal with the "spring activities."
Parliamentary Chairman Davit Bakradze along with several Majority MPs hesitated in voting on Kvezereli's behalf. Explaining the reasons for his "restraint" Bakradze spoke of the technical problems while expressing his view on the Minister's possible withdrawal. "The registration button seems to have gone out of order," Bakradze told MPs asking to add his vote to his opponents' votes.
Expressing his gratitude towards the Majority MPs for their support, the Minister said he would continue working on agricultural development with them. Doubting whether his opponents had properly listened to his address, Kvezereli emphasized the importance of agricultural development and admitted that "there are still lots of problems within the sector". "I have clearly introduced MPs with the vision and strategy of the Ministry of Agriculture but I felt as if the opposition had either deliberately misunderstood my speech or they simply couldn't make sense of it," he later told the media calling oppositional remarks "senseless".
Executive Director of International Foundation for Sustainable Development (IFSD) Professor Alexander Tvalchrelidze disapproved the Governmental strategy on agricultural development in Georgia. Talking of necessity for systemic changes Tvalchrelidze told The Messenger that the Government has better promoted "personnel services" within the sector. "Peasants or farmers shouldn't be buying products at markets. They should produce enough products and sell them to mediator private companies for further benefit. Moreover the deals between the sides should be ensured not after the farmers get their harvest, but from the moments of planting the seeds," the analyst told us.