Bulgaria and Georgia strive for "strengthening" mutual cooperation
By Mzia Kupunia
Tuesday, March 29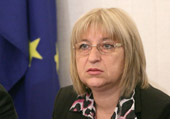 Bulgaria supports Georgia's EU aspirations, Bulgarian Parliament Speaker Tsetska Tsacheva said on March 28 after the meeting with her Georgian counterpart, Davit Bakradze in Tbilisi. She said the sides discussed the issues related to cooperation in different fields, including the strengthening of economic relations, increasing the number of transits and working out more joint energy projects between the Black Sea states.
Tsacheva said the Bulgarian side is ready to share its experience with Georgia in terms of carrying out reforms. "Georgia and Bulgaria have a lot in common. We support Georgia's joining EU, Georgia's becoming a member of the European family," she said.
Georgian Parliament Speaker, Davit Bakradze pointed out at the joint press conference that Bulgaria's experience is "very interesting and important" for Georgia. "Georgia and Bulgaria are linked with very important political, economic partnership relations and Sofia is an important supporter of Georgia in terms of its EU and NATO integration," Bakradze said, adding that with Tsacheva's visit to Georgia inter-Parliamentary relations are taking off between the two countries. "Georgia and Bulgaria are linked with economic relations, with history, friendship, politics, but we should admit that until now there had not been high-rank parliamentary visits and parliamentary contacts," the Georgian Parliament Speaker stated, adding that the Georgian delegation will visit Sofia in the "near future."
According to Bakradze, the sides discussed the situation on Georgia's occupied territories and the Russian-Georgian relations as well at the meeting with the Bulgarian Parliament Speaker. "This country has always been Georgia's supporter and we hope that this support will deepen in the future," he said.
Meanwhile Georgia and Bulgaria signed an agreement on starting direct flights between the two countries, the press office of the Bulgarian Parliament reported. Georgian Minister for Economy and Sustainable Development Vera Kobalia and the Bulgarian Information Technologies and Communications Minister, Alexander Tsvetkov signed the document. Kobalia said the agreement will enable Georgian air companies to enter the Bulgarian air market bypassing "extra bureaucratic barriers." "This will bring the two countries even closer and will raise the number of travelers between Georgia and Bulgaria. Signing such document is part of our policy, which aims at liberalizing Georgia's air market. All of these efforts will increase competition on the market, improve the quality of service and will help price decrease," the Georgian Minister stated.
According to Georgian officials the agreement with Bulgaria on direct flights envisages eliminating "all restrictions" which "used to hinder" freely conducting flights between the two countries. Direct flights between Georgia and Bulgaria are due to start in one month. Georgia is the member of the European air space and has already signed transport agreements with 14 EU states.