Georgian production of Italian play offers thoughtful fusion
By Salome Modebadze
Tuesday, April 5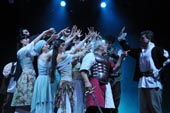 Last week Kote Marjanishvili State Drama Theatre presented
Decameron
by Italian writer Giovanni Boccaccio to a Georgian audience. Boccaccio began working on the collection of 100 novellas presumably in the medieval ages.
Decameron
is an allegorical work best known for its bawdy tales of love, appearing in all forms from the erotic to the tragic.
Director of the Georgian play Levan Tsuladze mixed several stories from the book reminding people about the main dignities and fallaciousnesses of mankind. People make lots of mistakes, mislead each other, prove loyalty and show off their bravery but the supremacy of fate comes before all human feelings because on the day of the apocalypse everything turns into ruins.
Tsuladze's enchanting scenes caused tears and smiles on the faces of Georgian audience. The struggle between the human feebleness and devotion under Vakhtang Kakhidze's meditative music made everyone think about the most worthy things in our lives. The play ends with great hope that the sinful past changes in a bright future where new generations spread loyalty and generosity throughout the world.