Georgian Economy Minister confirms reports about selling Poti Port
By Mzia Kupunia
Tuesday, April 5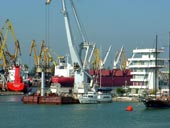 The Georgian Minister of Economy and Sustainable Development, Vera Kobalia has officially confirmed the selling of Poti Porti. The Minister said yesterday that the new owner of the Black Sea port of Poti in Western Georgia is APM Terminals. APM Terminals, which is a daughter company of Danish Maersk, is obliged to invest USD 65 million in Poti and employ local people, according to Kobalia.
However, speaking to
Interpressnews
news agency, the General Director of Poti Port did not confirm the information about selling 80 percent of the shares to APM Terminals, saying that the decision has not been made so far. "We had a meeting last week with the Georgian government over selling the shares. They have agreed on bringing a new investor to Poti Port, however at this stage no specific decision was made. I cannot confirm the information about selling the Port, and nor can I specify how long this process will take," Interpressnews quoted him as saying.
The United Arab Emirates state-owned investment Fund Rakia announced about its plans to sell the port in 2010. According to the representatives of Rakia, the company was planning make an initial public offering of the Port in 2011. "We will go for an IPO definitely in 2011," Khater Massaad, the CEO of Ras Al Khaimah Investment Authority (RAKIA), told Reuters news agency in July 2010. "These are strategic actives for us. When it is possible to gain some money from selling something, why should not we do this?" Georgian media outlets quoted Massaad as saying.
"Rakia has a right to sell its stocks. The company representatives have several times mentioned that the Port was profitable for them and had yielded a substantial return. Chinese and Indian companies are interested in purchasing the stocks of the port. I am sure the company will receive a serious profit from making its stocks available on the international Market," Vera Kobalia said earlier in November when commenting on the information about the plans of placing "certain amount of stocks in Poti Port" on the European stock markets in 2011.
Rakia received 51 percent of Poti Porti shares in 2008 after paying USD 90 million. Later the company purchased the rest of the shares as well for USD 65 million. The obligations of Rakia included developing a free industrial zone on 300 hectares of Poti territory.
The reports on the alleged purchase of Poti Port shares by APM Terminals were disseminated by media outlets last week. Information Agency
Reuters
wrote on April 1, based on the information provided by an anonymous Georgian official that "talks may be concluded within the coming days." The unnamed Georgian official also told Reuters that the Georgian government was involved in talks "as it had a right of veto over any deal."