Georgian Prison conditions compared to Nazi camps
By Salome Modebadze
Tuesday, April 5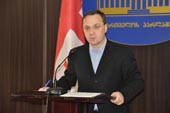 On April 4, the Georgian Parliament started familiarizing with the Human Rights Report for 2010 introduced by Public Defender Giorgi Tugushi in the previous week. Violations of human rights within the penitentiary system, IDPs' conditions as well as the situations at orphanages studied by the ombudsman's office are to be discussed by MPs. Analyzing Tugushi's report in detail, Gia Tsagareishvili from Our Georgia – Free Democrats spoke of the terrible conditions the prisoners are facing within the penitentiary system.
Mentioning cases of physical assault and an increasing rate of death at Georgian jails, Tsagareishvili called for the removal of the Minister of Corrections and Legal Assistance Khatuna Kalmakhelidze from her position. Encouraging the MPs to back his suggestion, Tsagareishvili worried of the engagement of medical officials in hiding the original information on prisoners on the Ministry's behalf.
Comparing the activities carried out within the penitentiary system with that of Nazi Concentration Camps, the MP stated that the situation at Georgian jails is out of civil control. "It has been two years since Kalmakhelidze was appointed the Minister while no steps have been made for improving the situation within the penitentiary system so far. The Parliament of Georgia had better refer to the Public defender's report as an important document not an ordinary notice and discuss the responsibilities of high ranking officials," he stated.
Levan Vepkhvadze MP from Christian-Democrats also emphasized the "heavy issues" arising from the Public Defender's report and highlighted the responsibility of Minister Kalmakhelidze while MP from National-Democratic Party Guram Chakhvadze suggested serious discussion was needed on the issue. "We can't bear irresponsibility from individual officials. They should be punished for their violations," he stated.
The average age of death among the detainees according to Tugushi's report is ranging 40-50, while Minister Kalmakhelidze claimed the prisoners generally die due to their old age. But as the Public Defender highlighted in his report, there have been frequent cases of death after departure which means delivering factually dead detainees to civil hospitals. Investigations on each particular case have been started but none have concluded yet. Majority MPs claimed they would study the report in details and make conclusions only after the General Prosecutor's Office could prove the information.
"The Public Defender's report concerns to particularly heavy issues referring to the penitentiary system, orphanages and the medical sphere. We are ready to check all the data and adequately react," Lasha Tordia Chairman of Human Rights and Civil Integration Committee told the media. Stressing the MPs would need at least a fortnight to familiarize with the report, Tordia promised to question all the responsible Ministers so that the General Prosecutor's Office could punish all violators of human rights.