Survey reveals unemployment fears in Georgia
By Salome Modebadze
Thursday, April 7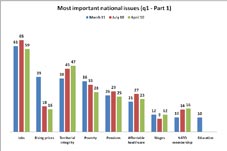 The National Democratic Institute (NDI) released a survey on the political environment in Georgia on April 6. The NDIís survey funded by the Swedish International Development Cooperation Agency (SIDA) was carried out by Caucasus Research Resource Center (CRRC). The results were taken from data collected in March 2011 in face-to-face interviews with a nationwide representative sample of 2 893 Georgians. The survey referred to the issues of public importance, perceptions of democracy and attitudes towards reforms, as well as various domestic and foreign policy issues. As Luis Navarro NDIís country director in Georgia said at the press conference Georgian citizens are looking to elected officials and political parties addressing the issues of greatest concern to people.
Problems with unemployment appeared to be the most alarming national issue for 65% of respondents according to the survey followed by territorial integrity and various social issues like rising prices, pension and affordable healthcare which are seldom discussed for the Government. There have been controversial answers to the question whether the situation in Georgia has improved or worsened in particular aspects since 2008. Welcoming the successful struggle against corruption and improvements within the educational system, the interviewed people seem to still be concerned about relations with Russia, unaffordable healthcare and poverty rates.
There has been controversy about Georgia's targets too: 71% of people approved that Saakashvili called for dialogue with Russia; 34% supposed that Georgia would join NATO after 2013, while 7% thought it would never happen. Those interviewed also emphasized that the officials in our country talk too much about prospective NATO and EU membership and corruption rather than the social problems while the cost of communal services, falling agricultural production and transportation costs are also worrying the people. There have been differences between Tbilisi's citizens and regions concerning the cost of communal services as 81% of people interviewed in Tbilisi called this the most important local issue, while only 19% of people from the rural areas share the same concern.
Most interviewed families seemed to have expressed similar opinions. Employment related issues seemed to be most alarming for them on a national level ranging from 79 to 84 in rural and urban areas. 73% of interviewed persons considered themselves employed while NDI's chart for the Georgian employment rate showed that 27% of people are full or part-time employees, around 36% are unemployed and retired persons looking for work while another 36% comprises non-active labor force like students, homemakers, retired persons who are not interested in looking for a job.
Freedom of speech, equality before the law and protection of human rights are considered as the main features for democracy for around 40-50% of respondents who claimed Georgia is a democracy going mainly in the right direction. 60% said that the current Government is somehow making changes for its own benefit, while 19% completely disagreed with such concerns. Georgian people suggested there was a necessity for reforms in various fields in the near future. Education, tax and electoral reforms followed by judicial and business environment improvements were most pressing for those interviewed.
Sharing their concerns on the current events around the country, 47-49% of survey respondents supported the new Governmental initiative on distribution of food and electricity vouchers of GEL 20-30 to Georgian families. Those opposed to this measure amounted to below 10%. People, stressing the necessity for educational reforms disapproved of the
Teach and Learn Georgia
program due to financial concerns.
The main source of information for receiving news about Georgian politics and current events is television but some of them also use internet, radio and newspapers for familiarizing themselves with the news. Sharing information among family members and neighbors is also very common in Georgia.
Rustavi 2 and Imedi TV, with 87%, held the leading positions at the NDI chart, followed by the 1st Channel of the Georgian Public Broadcaster. As for the other local or regional TV channels their rate had been ranging from 2 to 10%. Real TV and First Caucasian seemed to have no audience among the interviewed people at all but as a matter of a fact the 59% of the respondents watched the President's phone-in-show on First Caucasian and suggested that the leading parliamentary opposition faction should have had an opportunity to make a formal response on the same channel.

Giorgi Akhvlediani, Head of Christian-Democrats Parliamentary faction, advised the Government to stop being so proud of itself after familiarizing himself with the report. "The results of the survey have proved how difficult the socio-economical situation it is in Georgia nowadays. There are no changes in the poverty level or employment opportunities so there is nothing to be proud of," he stated. Encouraging the people to use and follow the principles of democracy the leading Majority MP Goka Gabashvili highlighted that the Georgian Government has made lots of important steps in various aspects but added that there is still much to be done.