Hamlet.comX at Rustaveli Theatre
By Salome Modebadze
Friday, April 8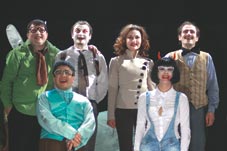 Rustaveli National Theatre presented Hamlet.comX based on William Shakespare's famous drama on April 6. Levan Khvichia's modernist approach to the classical play with free and humorous scenes fascinated people of all ages. Talking of the main messages of his comedy, the young director explained the reason why he had chosen Shakespare's Hamlet for his daring experiment.
"Shakespare's original story has strong dramatic values. Moreover it's full of vital issues which we the people are facing in our everyday lives even nowadays. That's why I made this commix with my friend artists and actresses," Khvichia stated. "The civilizations have reached such a peak that we had a feeling as if everything would ruin. So we decided to mix the classic drama with comedy and "start" the "restoration" campaign," he told us.
Robert Sturua Artistic Director of Rustaveli Theatre praised the "talented joke" to The Messenger while those, who think that everything in the world is nonsense or just want to know whether we the people are playing emotions for others, can seek the answers to the eternally insoluble questions at Rustaveli Theatre's experimental stage.