Georgian interpretation of Schmitt's triumphal play
By Salome Modebadze
Friday, April 8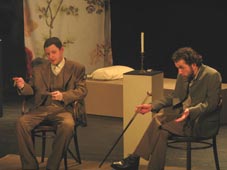 The Visitor
by French writer Eric-Emmanuel Schmitt had an amazing impact on the whole audience at Rustaveli Theatre on March 5. The play shares the experiences from the life of famous neurologist Sigmund Freud who founded the discipline of psychoanalysis. The original story of Schmitt written in 1993 was a triumph for the writer, earning three Molieres in 1994 for best actor, theatrical revelation and best play. The work soon became a classic and is now part of the international repertoire.
The amazing drama translated by Ketevan Kvantaliani had been wonderfully staged by Gosha Gorgoshidze at the theatre's experimental stage. The old Jewish professor living in Vienna is constantly oppressed by Nazi officers. The only way out of this awful situation is to sign the agreement on departure from his much beloved capital but Freud is hesitant about making such a difficult decision. But unfortunately his brave daughter Anna is taken to the Gestapo, the official secret police of Nazi Germany.
The old professor remains alone in despair when suddenly a stranger visits him to remind him of his forgotten past and help define the future… The Atheist professor can hardly believe that his visitor is God but their dialogue becomes more and more interesting. Goga Barbakadze (the visitor) and Bacho Chachibaia (Freud) dealt wonderfully with their roles. It was strange for Bacho to play an old professor but "when I first read the scenario, I grew up several years and started looking at things in different ways," Chachibaia told
The Messenger
.
The constant struggle between the human mind and faith had been interestingly discussed at The Visitor. Talking of the main idea of the play Goga Barbakadze told me that "even Freud had found God at his elder age". It was a great opportunity for me to refresh my values and I would also recommend you to see and enjoy the world famous play.