Opposition fears that Human rights failings will harm country's image
By Gvantsa Gabekhadze
Tuesday, April 12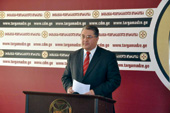 Khatuna Kalmakhelidze (The Minister of Corrections and Legal Assistance of Georgia) and Koba subeliani (Minister of Internally Displaced Persons from the Occupied Territories, Accommodation and Refugees) are creating problems not only inside the country, but they are also harming the country's image in the eyes of the international community as well – representative of Parliamentary Christian-Democratic Movement, Giorgi Akhvlediani, said on April 11.
"We have frequently talked of the extremely unacceptable situation in the Georgian penitentiary system. We have also talked a lot about violations regarding the refugees by the Minister of Internally Displaced Persons from the Occupied Territories. The same remarks have been voiced by Ombudsman in his report and now the U.S. Department of State's annual human rights report has underlined the same shortcomings, " Akhvlediani stated and mentioned that all of this should be more than enough for the President and Prime Minister of Georgia to remove those ministers from their posts.
Opposition MP, Guram Chakhvadze considers that Kalmakhelidze staying on the post might negatively impact on Georgian –American relations, "carrying out personnel changes is necessary, as Kalmakhelidze can't handle the responsibility. Herewith, those figures must also lead to the punishment of those responsible for prisoners' rights' violation. If the Georgian government ignores the US recommendations, it might have a negative effect both on the relations with the United States and with the International community."
According to majority MP, Lahsa Tordia, the US human rights report is very significant for the authorities, however unlike the Georgian oppositional representatives he remarks that this document includes more positives for Georgia, than negatives, "it is a quite critical report and we are going to work out the ways in which we can carry out those recommendations. As for the penitentiary system, the report has given the most positive estimations to those reforms which have been undertaken in the Ministry."
As Deputy Foreign Minister, Nino Kalandadze has mentioned, "the report is a recommendation and critics should be acceptable, however we do not agree on some items of the report, " Kalandadze said without delivering more information as to which points were unacceptable for Georgia's ruling forces.
According to analyst Soso Tsintsadze, based on the two reports (Ombudsman's report and the report of US Department of State) the activities of Kalmakhelidze should be seriously scrutinised, "I can't say whether Kalmakhelidze should remain in the post or be removed, however , the two reports mirror each other regarding the problems in the penitentiary system. I think that the Prime Minister and Georgian Government should carry out serious arrangements regarding the Ministry's activities."