Human Rights Report criticism rejected by MFA
By Salome Modebadze
Tuesday, April 12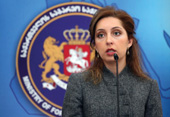 The Ministry of Foreign Affairs of Georgia (MFA) did not agree with particular remarks from the US Department of State's Human Rights Report on Georgia. Despite some significant human rights achievements in 2010, the report emphasized certain failures in meeting international standards. Allegations of selective application of law, wherein crimes involving Government officials or supporters were slowly investigated and often remained pending according to the report; while those involving the opposition were investigated quickly, which "led to allegations of impunity for Government officials." The report also spoke of pressure on businesses "to suppress potential support for the opposition and independent media."
As Nino Kalandadze Deputy Minister of the MFA said at the routine Monday briefing, there were several issues on which the Georgian Government had a different approach from the US position. "We welcome any qualified report from our friends despite its agenda. This report is aimed at giving recommendations and any criticism is acceptable for us, but it has particular pieces on which we can't agree with our colleagues," Kalandadze stated.
Hesitating to name the differences in opinion, the Deputy Minister highlighted that the report has been less critical on Georgia compared with other states and reflected the progress which Georgia has achieved so far. "It is very important for us that the US report has distinctly emphasized the situation in the occupied territories and pointed out the necessity for allowing international missions for avoiding human rights violations within the region," she added.
"The Report identifies the growth of mortality among the prisoners, inaccessibility of health care and eviction of refugees breaching the law," Giorgi Akhvlediani Chairman of the Christian-Democrats Faction worried. Guram Chakhvadze MP from National Democratic Party suggested Parliamentary discussions should be held over the issue. Hinting that the failure to adhere to international standards might be due to failures within particular Governmental branches, the MP advised his colleagues to consider all the reports prepared by local and international NGOs and the Public Defender and pay close attention to ensure the improving and strengthening of their policy.
Lasha Tordia, Chairman of Human Rights and Civil Integration Committee, emphasized that the US Report had welcomed great progress with human rights in Georgia. Stressing the importance of the US Department of State's reports, Tordia also mentioned problems with particular issues. The majority MP expressed the readiness of the ruling United National Movement (UNM) to discuss these problems with NGOs. Stressing the necessity for checking the facts mentioned in the report, Tordia said the UNM would consider the US remarks on Georgia and define the most viable ways of addressing the problems.