Farmers in Shida Kartli Granted AGRICULTURAL MACHINERY
Wednesday, April 13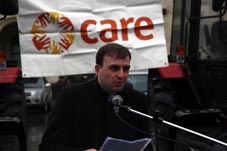 International humanitarian development agency CARE granted a set of agricultural machinery to two farmer groups from the villages of Sakasheti and Shavshvebi, Shida Kartli region as part of "Stabilization and Integration of IDPs into mainstream Georgian Society" (SIIMS) project.
"The project's intention is to improve the availability of agricultural machinery in the target areas and provide easy access to tractors and associated agricultural appliances at a reasonable cost for IDPs. This improves the quality of primary agricultural produce and thus contributes to the competitiveness of farm outputs from the target areas. Subsequently, this increases the incomes of farmers and serves as an incentive to invest more time and resources into agriculture which, given the location of many IDP settlements, represents potentially the major source of income," says Vakthang Piranishvili, Director of the Project.
This is already the third round of the donation of the agricultural equipment to the farmer groups formed by by IDPs and local mechanization farmers.
One set of equipment per service group includes a tractor, a plough, a mill for soil preparation, a disk harrow, a fertilizer spreader and a cultivator which, altogether, has a total value of approximately 42 000 USD. The SIIMS project also provides follow-up trainings on business plan development, accounting, cash management etc to strengthen the institutional capacity of the groups.
A study commissioned by CARE in December 2009 found that average income of the IDPs is GEL 78 and that of non-IDPs – GEL 182; only 8% of IDPs and 12% of non-IDPs have formal employment. Over 50% of IDPs say that machinery would help most in increasing agricultural productivity.
The presentation was attended by Minister of Refugees and Accommodation Mr. Koba Subeliani, Governor of Kvemo Kartli Mr. Davit Kirkitadze and senior managers of International and local Non-Governmental Organizations acting in Georgia and working on IDP issues were present as well.
The SIIMS project is jointly implemented by CARE Norway and CARE International in the Caucasus along with the partner organizations: Civil Development Agency (CiDA) in Georgia, IDP Women's Association "Consent" and "Center for Training and Consultancy" (CTC). The project is financed by Norwegian Ministry of Foreign Affairs and its total Budget is 19 Million NOK (2.9 Million USD). The project started in July 2009 and will last for 3 years.