The English Speaking Union Competition
Wednesday, April 13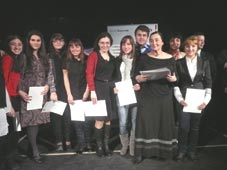 On April 7 a competition was held at The English Speaking Union. Two winners, who will travel to London to participate in the competition where different representatives of countries around the world will be participating, were announced as Salome Vacheishvili and Ani Shekiladze.
The ESU was set up in 1918 as an independent, non – political, non – governmental, educational charity. The Patron of the ESU is Queen Elizabeth II, the President – Prince Philip – Duke of Edinburgh. One of the ESU's first chairman was Sir Winston Churchill.
In 1998 Georgia Joined the ESU which operates in more than 50 countries.