Opposition strengthening after failure of election talks
By Gvantsa Gabekhadze
Thursday, April 14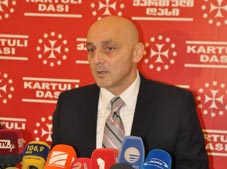 The Parliamentary opposition has made new suggestions towards the oppositional 8 (Republicans, Our Georgia-Free Democrats, Christian Democrats, National Forum, Conservatives , Georgia's way, New Rights, People's party) trying to change the election environment in the country which were voiced by Jondi Baghaturia, leader of Georgian Troupe, on April 13.
"The precondition of improving the election environment must be the creation of equal and concurrent election conditions. In order to achieve this, there are four main challenges: restriction of usage of administrative recourses, ensuring balanced informative space, adoption of an upper limit of financing elections and defence of parity between the authority and oppositional representatives in election administrations, "Baghaturia, said. As he has mentioned it is of the utmost importance for the ruling party to be isolated from the state, for the opposition to operate fairly in competition with the ruling party. Thus, as Baghaturia underlined, the involvement of any organization which is financed from the state budget, must be rejected in the election process.
How these and any other suggestions and recommendations might be taken into consideration, is difficult to say, as despite oppositional parties' statements that they will not give up the negotiation table, the ruling party is still at a distance from negotiating. At the same time, the so called radical oppositional factions are still actively speaking of the necessity for a revolution in the country.
The oppositional activities have become one of the issues of the Jamestown Foundation. In an article of the foundation written by the analyst Vladimir Socor, "This tactic is not a new one for the Georgian militant groups. Some of them used it in 2007 and 2009. Novelties this time include overt use of the term revolution; unprecedented if ambiguous references to bloodshed; and a lesson, drawn from the Arab events, that the West cannot countenance the use of force by a threatened pro-Western government, "the analyst said and mentioned that these radical opposition groups have missed their chance to capitalize on economic hardship. Georgia's economy has entered post-crisis recovery; its GDP is currently growing at 6 percent and is expected to maintain at least this rate for the year. Certain parts of the article were dedicated to the two parties, working on election environment improvements in the country, meaning Our Georgia-Free Democrats and Christian-Democratic Movement. As Socor mentions, these two parties matured in the country-wide local elections of 2010 and those elections laid a foundation for further development of a party system in Georgia.
According to Georgian analyst Irakli Sesiashvili, "currently the opposition is engaged with fishing, which fish they might catch is still unclear for them, " the analyst stated and explained that at the present moment oppositional parties are trying to strengthen in different directions, with the western countries, with current authorities and between one another. However, he states that the balance in relations with the authorities and opposition has been very much undone, at the same time he mentioned Georgian society's critical attitude regarding the oppositional parties, "however, step by step, the oppositional spectrum is refining, it becomes more vivid what political attitudes they are expressing, which will finally lead us to normal political process."