Alasania slams government and opposition rivals after 'coward' accusation
By Gvantsa Gabekhadze
Tuesday, April 19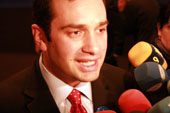 There is no place for Mikheil Saakashvili in the politics of the future - Leader of Our Georgia-Free Democrats, Irakli Alasania stated on April 18. At the same time, he responded to one of the leaders of the Georgian Party, Irakli Okruashvili, whom he has called a coward.
"This is the lie of an immoral and feeble politician who tries to insult political opponents however I want to give a guarantee that he has already been defeated in the fight. His problem is that he is afraid of the future, as there is no place for him in the politics of the future, "Alasania, said.(Based on Imedi TV program Kronika, while his speech to Chatham House, Alasania expressed his surprise as to why such serious attention is paid to strategically insignificant Georgia. Saakashvili responded to the phrase and accused Alasania of being anti Georgian.)
Alasania's strict statement has also been directed towards former Defense Minister and now one of the leaders of the Georgian Party, Okruashvili, " Irakli Okruashvili is a coward and unworthy as Saakashvili is and he is not even worthy of my response. I will give him an adequate response, when I meet him face to face." (in his interview for Kviris Palitra Okruashvili criticized those opposition members who are working on election environment improvement, especially Alasania about whom Okruashvili has said that Alasania was the only virgin in Georgian politics, with great resources from whom the Georgian people expected much...).
As well as making these responses, Alasania has underlined some new plans of his party. As it became known, Our Georgia-Free Democrats are planning close collaboration with National Forum, however unification is not likely, " we have agreed on close collaboration, as we see these two political parties as very good and solid partners for future."
Of course, the Georgian authorities' attitude differs extremely from the opposition representatives, who are trying to change the current Government and President by different ways, however they have the same attitude as certain oppositional leaders regarding some current opposition representatives, "one of the greatest merits of the current authorities and country leader is that we have a broken old stereotype, meaning changing the authorities by revolution, which is extremely bad for the country's development. Our attitude towards possible revolution is a bit ironic, " MP, Koba Khabazi, said and also commented regarding Okruashvili, " he is warmly settled down in Paris now, as it seems he had stolen more money , than he was made to bring back to the state budget. I call such figures a political dreg."
We are sitting on a barrel of gunpowder, which has a wet wick - analyst Giorgi Margvelashvili, stated, as he has mentioned serious part of Georgian society is very much unsatisfied with the current Georgian reality, they are discontent without any hope of the future, "this is a very dangerous situation for social rebellion, however, those forces, which might launch the rebellion are not consolidated. Thus, we are sitting on the barrel of gunpowder with a wet wick, " states the analyst and mentions that the situation might change due to several factors, " for example, irritation of western allies, the Russian factor, economic problems and one more mistake of less forecasted Georgian authorities. We are in a dangerous situation and I cannot see the genuine mechanism, this threat not to become a catastrophe."