Stolen Georgian masterpiece found in Moscow gallery
By Salome Modebadze
Tuesday, April 19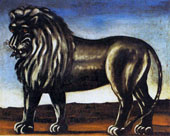 The GEL 60 million valued Black Lion - famous masterpiece by Georgian painter Niko Pirosmani - was found at Moscow Gallery. The painting was stolen in the 1990s from the family of late Apolon Kutateladze, the rector of Georgian Art Academy and as his son Karaman told the media, armed men had been aware of the masterpiece's value. "I gave the repeated testimony several months ago so that our country took control of this case," Karaman Kutateladze stated.
Stressing that the world-important painting is first of all Georgian property Kutateladze worried of the possible complications with Russia due to the existing post-war tension between the neighboring states. Talking of the international rules and ethic norms, art critic Gia Marsagishvili said that these regulations prohibit any museum or gallery to exhibit stolen pieces of art. "If the painting was the original by Pirosmani, the possession of the Kutateladze family, then this is a violation of international law and I think that a criminal case must be built on the fact and the masterpiece be returned to its legal owner," Marsagishvili stated.
As the organizers of the Moscow art exhibition explained to the Georgian media, the Black Lion belongs to the Russian Academy of Art. The Georgian side was also advised to inform the Russian police about the details of the stolen masterpiece. Black Lion was created by famous Georgian painter in 1906 and is one of the most expensive pieces of art from Pirosmani's valuable collection which had been internationally searched for so long.