Election reform raised at US-Georgia meeting
By Gvantsa Gabekhadze
Thursday, April 28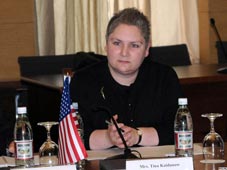 Deputy Assistant Secretary of the Bureau of European and Eurasian Affairs Tina S. Kaidanow paid an official visit to attend the meeting of the democratic development group of the Georgia-US strategic partnership charter, on April 27. In the frame of the meeting, she met with Georgian oppositional representatives, members of civil society and NGOs.
Georgia is going through a process of development and democratic advance however, much still remains to be done- Kaidanow stated, adding that significant activities should be carried out in the direction of elections and court reforms, "the United States supports Georgia and we have a strong position regarding Georgia's territorial integrity, we are in full support of Georgia and its democratic reforms."
According to opposition representatives, the stalled negotiations on the election environment in the country, between the authorities and the opposition became the biggest issue during the meeting with Kaidanow, "we have stated that non government organizations and wider society should be involved in the process. The US officials have also stated that they would discuss the issue in detail while meeting with the authorities," Alasania, the leader of opposition Our Georgia-Free Democrats party, said. As Leader of New Rights, Davit Gamkrelidze, said after the meeting, the US side is expecting a final outcome to the talks by the end of May and that they are very much interested in the issue.
A wider spectrum of themes were raised within meeting with the civil society representatives, as the Head of Georgia's Professional Unions' , Irakli Petriashvili said, the US officials were very much aware of the processes ongoing in the country, " they are making periodic monitoring of democratic processes in the country. There are significant shortcomings in human rights' protection in the country, in the court system and some others. Only the development of one concrete system, like the development of the election system and so on, can be regarded as the guarantee of Georgia's democratic development. Protection of employed people's rights is very significant in this regard."
Media and court related problems have been pushed forward by media analyst, Nino Danelia and the Chair of GYLA (Georgia's Young Lawyers Association), Tamar Chugoshvili, "I have talked on privately about media freedom, problems related with licenses and availability of public information, ", Danelia said. As for Chugoshvili, as she has stated there has been no according response and investigation on the crimes committed by law enforcement structures' representatives about what she has told Kaidanow, herewith , the issue of a perceived lack of impartiality in court was also discussed.
It appears that the authorities and oppositional representatives' plans regarding new election code, do not coincide, "our partners do not set such terms for us, as the oppositional representatives said. Political parties make agreements on such issues. Based on our plan, the new election code will be ready for autumn, "MP, Akaki Minashvili from the ruling partyss, responded.