Saakashvili encourages farmers to revive Georgian production
By Salome Modebadze
Friday, April 29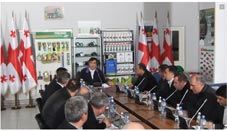 Georgian President Mikheil Saakashvili visited Kakheti region to familiarize himself with spring farming activities on Wednesday. Discussing the priorities of the agricultural sector with the local administrators, Saakashvili emphasized the necessity for moving to intensive agricultural production. Talking of the great historical potential in agricultural production with ? of tillage land the President worried that only 60% of such land is being used by farmers.
The President recollected the negative trend of the 1990s when the Government officials used to grab hundreds of hectares of land and had enough income to maintain families even after their withdrawal. "Why should the rest of the country have suffered due to these insatiable characters when the best pieces of Georgian land can bring benefit to 500 or 1 000 families," Saakashvili wondered. Explaining that there is no land to spare in Georgia, Saakashvili encouraged the people to use 100% of the land for creating more products for local distribution and export. "Even though the prices on petrol will increase, one should use the land for further benefit but if one doesn't cultivate he/she doesn't simply want to bother with anything else," he added.
Talking of the support programs the Government has carried out to assist agricultural development, Saakashvili welcomed the successful implementation of the corn program which according to Kakheti Governor Giorgi Gviniashvili covers 17 000 hectares in the region and would bring great income. Sharing the details of negotiations with the World Bank, Saakashvili stated that Kakheti should become an "exemplary region in all directions" and spoke of the positive steps which will be taken in this direction from 2012-2013.
Being aware of the individual problems different parts of Kakheti are facing nowadays Saakashvili promised to consider them all and work on improvements. "New farming centres, trainings for agronomists out of Georgia and such activities offer a new perspective to Georgia. We are the members of agrarian Government as everyone around us is working on improvements in this very sector," Saakashvili told the audience.
Welcoming the progress the region has reached in the last few years the President, with Minister of Agriculture Bakur Kvezereli, visited all the arable sites and regretted that the productive lands are being wasted on pasture. Encouraging the farmers to become actively engaged in the cultivation process, Saakashvili supposed that the country will benefit with at least GEL 1 billion from the "unexhausted potential" of the Georgian agricultural sector this year.