UNDP continues to pursue trade development in Georgia
By Messenger Staff
Friday, April 29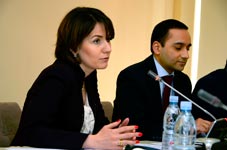 United Nations Development Programme in Georgia (UNDP) in cooperation with the Georgian Prime Minister's office held a round table discussion on
Aid for Trade Needs Assessment
at Betsy's Hotel on April 27. Improving the social impact of economic growth and eliminating barriers for export producers are key for ensuring long-term economic development and stable growth rates in Georgia according to the study implemented by UNDP with funding from the Government of Finland as the outcome of the World Trade Organization (WTO) conference in 2005.
As Sophie Kemkhadze, Assistant Resident Representative of UNDP told
The Messenger
, the main goal of the report is to "help the Georgian Government improve trade policy, regulations, infrastructure and human development measurements, determine trade-related needs and priorities, and identify the areas where technical assistance from donors is necessary."
"Trade can greatly contribute to human development and poverty reduction. It can become the effective instrument for development" she said.
Key findings of the national assessment worked out by experts Mikheil Tokmazishvili and George Berulava aimed at helping Georgia benefit from trade agreements and enhance the contribution of trade to further development. The document examines the prospects of trade in different sectors of the Georgian economy, foreign trade relations and regional trade-related issues by considering current investment policies.
Talking to The Messenger, Tokmazishvili stressed the necessity for increasing Georgia's competitiveness on the international market and pointed out the imbalance between import and export in our country.
Voicing concern about the recent decrease in investments, the analyst spoke of the lack of relevant educational background, innovative technologies and managerial experience which hinders Georgia's promotion on the international level. "Despite the beneficial climate for business activities in Georgia, human development requires significant improvements. Institutional and financial projects should serve as a tool for uniting the state and private sectors in an effort to find a solution to the problem," he told us.
Talking of the great agricultural potential of our country Tokmazishvili said that only 1or 2% of the total bank credits are being spent on this sector and it is only developing from savings. Stressing the need for cooperation among Government, private and civil sectors the expert hoped that positive negotiations would result in practical activities.
Irakli Matkava, Deputy Minister of Economy and Sustainable Development, expressed the readiness of the Ministry to cooperate around foreign trade-related issues. Expressing his gratitude towards the "deep and comprehensive report" Matkava emphasized the importance of trade as one of the important parts of Georgian economics. "It is very important that the Georgian production should be freely spread on the international market. Today's report has highlighted all the steps carried out by the Ministry so far and gave recommendations for further consideration. Thereafter we would think of how to simplify this process through a number of reforms within the Government," he stated.