US State Department comments on Lavrov's visit to Georgia's breakaway regions
By Mzia Kupunia
Monday, May 2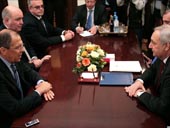 The US State Department released a special statement on the visit of the Russian Foreign Sergey Lavrov to Georgia's breakaway regions of Abkhazia and South Ossetia. Acting Deputy Spokesman of the US State Department, Mark Toner said on April 30 that "Russia's recent efforts to conclude formal state-to-state agreements with the 'de facto' authorities in Abkhazia and South Ossetia during a visit this week to those separatist regions are inconsistent with the principle of territorial integrity and Georgia's internationally recognized borders."
According to Toner, the US "remains committed" to a peaceful resolution to the conflict in Georgia's separatist regions and the restoration of Georgia's sovereignty and territorial integrity within its internationally recognized borders. "We further call upon all parties to the conflict to fully implement their commitments pursuant to the 2008 Ceasefire Agreement," Toner stated.
Russian Foreign Minister, Sergey Lavrov visited Abkhazia and Tskhinvali region last week. Russian top diplomat pledged Moscow will "defend" the breakaway regions of "any Georgian aggression." Lavrov signed several "inter-governmental" agreements with the de facto officials, including a document about visa-free regime between de facto Abkhazia and Russia.
The EU High Representative of the Union for Foreign Affairs and Security Policy Catherine Ashton slammed Lavrov's visit to Georgia's breakaway regions. "The European Union notes with concern that the Minister of Foreign Affairs of the Russian Federation, Sergey Lavrov, has paid a visit to the Georgian regions of Abkhazia and South Ossetia on 25 and 26 April 2011, without prior consent of the Georgian authorities," Ashton's spokesperson said "The EU does not consider these visits compatible with the principle of territorial integrity. The EU reiterates its support for Georgia's sovereignty and territorial integrity and underlines the importance of a peaceful conflict resolution in full respect of the territorial integrity of Georgia within its internationally recognized borders."
The de facto Abkhazian Foreign Ministry said it was "surprised" by the Statement of the EU High Representative. "The Abkhazian Foreign Ministry considers the statement of Baroness Catherine Ashton incorrect against the background of the established inter governmental and diplomatic relations between Abkhazia and Russia," the statement of the de facto Ministry reads "The states, which have established diplomatic relations, have a sovereign right to develop them and to exchange official and working visits without informing the third parties," it continues.
Georgian Foreign Ministry has welcomed the statement of the US State Department. Deputy Foreign Minister, Sergi Kapanadze said the US Department of State's position indicates that the policy of Russia is "unacceptable for the civilized world." Kapanadze described Lavrov's visit to Georgia's breakaway regions as a "provocative" step. "It was condemned by the international community, including the EU High Representative Catherine Ashton. The position of the US State Department is similar. It indicates, that Russia's policy is unacceptable for the civilized community," the Deputy Minister said.
Tbilisi has described Lavrov's visit to Abkhazia and Tskhinvali region as Moscow's attempt to "legitimize the occupation of Georgia's breakaway regions."