Tbilisi Fashion Week launched as Sheraton Metechi celebrates 20 years
By Etuna Tsotniashvili
Tuesday, May 3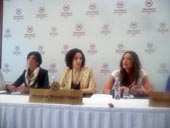 Tbilisi Fashion week starts today and will run to May 8 with events taking place at Sheraton Metechi Palace hotel which celebrates the 20 year anniversary of its establishment.
13 well known fashion designers and 15 newcomers will take part in the fashion show. The grand opening of Tbilisi Fashion week will be opened by Performance of Simon Machabeli and will be finished by Atelier 10a.
"Tbilisi Fashion Week is the most creative and innovative event in Georgia's fashion field. In this event leading as well as new designers have an opportunity to show their collections. TFW supports talented designers and gives them a chance to present themselves," Tako Chkheidze one of the organisers of Tbilisi Fashion Week stated.
"Sheraton Metechi Palace's anniversary is symbolically coinciding with Tbilisi Fashion Week because everything connected to Georgian fashion began in this hotel," Tamar Guledani Director of marketing department of at the Sheraton Metechi Palace Hotel said.
After party organiser Nino Ioseliani promises that the after party of the fashion shows will be interesting and enjoyable. She introduced details of the evening's events. According to her, the major goal is to introduce foreign buyers and fashion critics to Georgian fashion week representatives and Georgian designers in order to begin close cooperation together.
Maka Bakhtadze, an Art Academy representative, expressed her delight that students from the academy will have an excellent opportunity to take part in the Tbilisi Fashion Show which will be a step forward in their career.
"Tbilisi fashion week is very successful project. Our newcomers will also take part in these shows which will be assessed by a special jury. Special foreign guests will hold master classes and lectures to the arts academy in Tbilisi," Bakhtadze said.
TFW will hold its final show in one of the most beautiful places in Georgia, Tsinandali in Kakheti region where Georgia's leading designer Tamuna Ingorokva presents her collection. TFW will conclude on May 8 with a competition of Ford Models Supermodels of the World which will take place in Georgia for the first time.
Tbilisi Fashion Week will above all be a platform to present talented Georgian designers.
The majority of selected designers for the main catwalk Shows are originally Georgian, however a number of these talented people work and/or study abroad.