Survey highlights slight progress for 'partly free' Georgian media
By Gvantsa Gabekhadze
Wednesday, May 4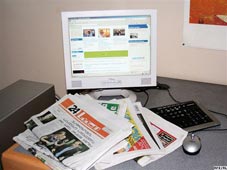 Georgia remains a partly free country in terms of the media, based on the survey released by Freedom House on May 2, however a slight improvement in the country's rating was noted.
The survey released on May 2, which covers 2010, ranks Georgia 118th with a rating of 55. Georgia's ranking in the previous similar survey, covering 2009, was 126th with a rating of 59.
The Freedom House attributed improvement in Georgia's standing in the recent survey to "improved political environment that led to a reduction in legal and physical harassment of journalists, fewer instances of official censorship, and more balanced coverage by the public broadcaster."
These supposedly forward steps were not the source of pride for Parliamentary opposition representatives, who have also congratulated journalists on the international day of media. They have mentioned that there is nothing to celebrate concerning the survey, "there is nothing glorious in this survey for Georgia. Based on the research of the international organizations, Georgia still remains a partly free country, " Leader of Christian-Democrats, Giorgi Targamadze said and appealed to the majority to discuss those projects which would improve and change the reality in this regard, "if we want to be a democratic state let's make a step and launch the discussing of those projects which would make public information more available, will destruct the monopoly in media space and will be the guarantee of journalists' safety."
According to fellow opposition member, Jondi Baghatua, putting pressure on the media is not punished in the country and to display this he raised several examples, including the dispute between Silknet and Maestro TV, "I have listened to the head of Silknet who stated his position and for this reason he will not switch on Maestro TV. Has anyone told him that it is a direct violation of the freedom of speech?" Baghaturia said and demanded the creation of a special committee to the Parliament, which would investigate cases of media violation.
Freedom House's survey has been differently assessed by the majority representatives, who have regarded the survey as a confirmation of media freedom in the country, "one of the most important things which is written in the survey is that Georgia has achieved significant success in the direction of media freedom," MP, Akaki Minashvili, said, at the same time he has given a different interpretation to the Silknet-Maestro TV dispute, "this dispute is the sign of the country's advance, this is the dispute of two private subjects and the state authorities should not be involved in the issue."
Regarding the media issues, member organizations of Human Rights House in Georgia held a flash mob, in front of the Parliament building, on May 3. Students of different universities and public defenders gathered in front of Parliament building with Georgian newspapers upside down. Based on them, in the state where the freedom level of media is so low, it has no meaning how one reads them. They have appealed to the authorities and the society to support free media development in the country as, " without free media, a democratic state is unimaginable."