PM Nika Gilauri outlines Kakheti region development plans
By Mzia Kupunia
Wednesday, May 4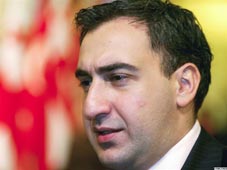 GEL 57 million will be spent on various projects in Kakheti region, Georgian Prime Minister, Nika Gilauri said on Tuesday at the Government Session held in the town of Telavi in Kakheti. According to the Prime Minister, most of the abovementioned sum will be allocated from the state budget, however, the PM noted that infrastructure projects will be funded by international organizations. Gilauri stated that the state funds, allocated for Kakheti region, will be mostly spent on rehabilitating the drinking water system in the region. "GEL 16 million of the GEL 57 million will be spent on drinking water rehabilitation works, whereas GEL 31 million will be spent to rehabilitate roads in Kakheti region," the PM said.
Nika Gilauri stressed Kakheti region's "big potential" to become an agriculture and tourist center. He noted that in order to achieve this, the programme on diversifying agriculture sphere should be continued. "Kakheti has this potential and we should take advantage of this. We should carry on the agriculture diversification programme and maximally try to grow export products here in this region," the Prime Minister noted "We should do our best to develop tourism potential in Kakheti," he added.
The Georgian side is expecting additional funds from the World Bank for developing Georgia's agriculture and tourism spheres, according to PM Gilauri. "We are currently working with World Bank on different projects, and probably, the implementation of the projects will start in September-October. We will work on getting additional funds from the World Bank for developing agriculture and tourism directions in the country, because these two spheres are the ones where not only private sector might get huge profits, but also ordinary citizens, and many people can be employed," Gilauri said in Telavi.
Speaking at the Government Session, the Agriculture Minister, Bakur Kvezereli mentioned planting olive and pomegranate plantations in Kakheti as part of agriculture diversification process. "There are several novelties in the region this year, olive and pomegranate plantations were planted for the first time this year in Signaghi, Kvareli and Sagarejo regions. This is clearly very important for the diversification of the agriculture field. I am sure that in the future these products will be exported," Kvezereli noted. The Minister of Agriculture noted that the maize programme has some shortcomings in Kakheti region due to weather problems. "Due to excessive precipitation, there were problems in terms of sowing in Kakheti. Overall, maize is sowed on 13 thousand hectares in Kakheti, most of which is hybrid species of maize," the Minister noted.
The Prime Minister called on the Ministry of Agriculture to "do its best" in order to eliminate the problems. "We will have some shortcomings in agriculture due to weather issues and we need to have everything mobilized, in order to meet the agriculture deadlines to yield the harvest on time," Gilauri noted.
The Prime Minister received information from the Regional Development and Infrastructure Minister, Ramaz Nikolaishvili about the planned infrastructure projects in the region. According to Nikolaishvili the project New Life of Old Telavi is being "implemented successfully." "This is the part of town which used to be washed away by water every time it rained. We have solved this problem," the Minister noted "As for Gurjaani-Lagodekhi road construction, which was launched last year, we suppose that it will be completed in mid September. This road is important as it will make it easier for Gurjaani residents to transport their products to other regions," he added.