Saakashvili applauds dynamic children at Da Vinci contest
By Gvantsa Gabekhadze
Friday, May 6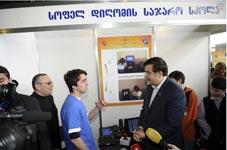 The President of Georgia Mikheil Saakashvili got familiar with the exhibition of the innovative projects developed by the schoolchildren at Expo Georgia Exhibition Center, on May 5. The exhibition was organized in the framework of the "Leonardo Da Vinci" Contest initiated by the President.
"If our young people do not learn to think and compete with each other in thinking; if they don`t think daily aim to improve their life then we will not develop. In each school we should have centers for inventors. We give them labs, computers, literature, provide them with internet but all the rest is up to students, their talent and character; Function of the state is to open way to our people`s talented character; We need all professions but... for Georgia`s development, first of all we need technical subjects", Saakashvili said.
The President several times underlined the importance of promoting technical subjects more , " may be some have been irritated by our paying more attention to technical subjects , however it is very important for the country's advance , there are many countries following our reforms, thus we must be innovators. "
The contest was administered by Shota Rustaveli National Science Foundation under the Ministry of Education and Science of Georgia. The main goals of the competition were to enhance the knowledge of the schoolchildren, support developing a creative thinking, get them interested in technical innovations and progress and unearth schoolchildren inventors.
IV-XII graders of all general educational institutions were eligible to participate in the competition. They took part both as an individual and as a team member. Schoolchildren had to provide a description of their invention and its illustration draft/model along with the application.
In order to promote the contest, public lectures were organized at the schools. Up to 50 scientists and young researches of different fields of sciences delivered the lectures covering both theoretical and practical courses. The lectures were held at the modern laboratories of the schools constructed within the scope of the Einstein Program of the Ministry.
All interested schoolchildren from all regions of Georgia participated in the Leonardo Da Vinci Contest. The works were presented in Physics, Chemistry and Biology as well as in Agriculture, Energy and Engineering.
The jury selected what it considered the 7 best projects. The authors of these projects were granted with medals, diplomas and cash prizes. The grand prize winner will be sent to England to participate in a study tour.
The winners were awarded with the cash prizes: 1st place –GEL 5 000 2nd place -GEL 3 000, 3 rd place–GEL2 000. The most interesting and innovative projects were exhibited at the Expo Georgia Exhibition Center.