Opposition start to campaign after election talks go quiet
By Gvantsa Gabekhadze
Thursday, May 5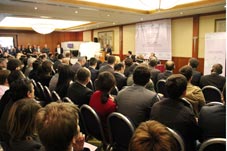 New electronic ID cards will be in force in Georgia from July 2011. The international conference dedicated to the introduction of electronic ID cards was held at one of Tbilisi hotels on May 5. The Prime Minister and the Deputy Minister of Justice delivered opening speeches at the conference organized by the Ministry of Justice.
"Our main aim is to simplify services for our citizens, herewith contact between the private sector and the state to be easier. Reforms, which have already been successfully carried out served this aim, however those reforms made us see the necessity of innovation in eclectic direction. New electric ID cards are one more step forward in the way of country reforms," Prime Minister, Nika Gilauri, stated.
As the head of Civil Register, Giorgi Vashadze said the new electronic ID card will be a plastic card with the certificate of the person's electronic signature on it. According to him the new electric ID card is a unique document which unites several functions, "here would be two kinds of electric chips on it – contact and non-contact. Contact one would be used for electric services, for example, a man will be able to bring any kind of application to the any state institutions by the confirmation of electric signature on the cards. The second one would be used for those services one uses every day, like bank, insurance and so on." Vashadze also underlined that these kind of ID cards are unique in the region and from the worldwide point of view, only two foreign countries have electric cards with a double interface and Georgia would be the only the third to do so.
The opposition, especially those parties which are working on the election environment improvement in the country demand adding one more function to the card, " we mean bio metric data of a person, such data will exclude any kind of violation during the elections," member of New Rights, Mamuka Katsitadze, said. CEC also welcomed the innovation and their representatives have mentioned that the effectiveness of the new electric ID cards would significantly depend on how many cards are delivered prior to the elections.
The cost of the new card is GEL 30 and will be free for socially unprotected citizens.