Tbilisi responds to Medvedev's congratulation message
By Mzia Kupunia
Tuesday, May 10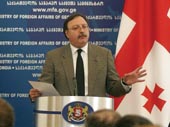 Tbilisi has reacted angrily to the congratulations delivered by the Russian President, Dmitry Mdevedev. His congratulations, posted on his official website, are directed to the "citizens of Georgia", while in all other May 9 congratulation messages Russian President addressed the heads of the states, including the de facto leaders of Georgia's breakaway regions of Abkhazia and South Ossetia.
"During these spring days the nations of Russia and Georgia again remember our rich common history, honor the heroes, who side-by-side fighting with Hitler invaders, defended the independence and freedom of the homeland," Medvedev's congratulation message reads "Russia has always been and remains committed to centuries-old traditions of good neighbourhood and friendship with the Georgian nation. We want to see Georgia a prosperous and a free country, living in peace with all of its neighbours," it continues.
The Georgian Foreign Minister, Grigol Vashadze responded to Medvedev's congratulation on May 8. After laying wreath at the memorial of an unknown soldier in Tbilisi, he told journalists that Medvedev's congratulation was a "clownery." "I do not think that the Georgian people have accepted the congratulation of the Russian President. Clownery has no limits. One can be a clown in any possible form," Vashadze stated. He noted that the Georgian Foreign Ministry celebrates the Victory Day on May 8. "Honestly, I am in favor of moving this holiday to May 8. The whole world marks the victory over fascism on May 8 and for absolutely incomprehensible reasons Russia is marking this day, as usual, separately on May 9," he noted.
The Georgian Minister explained the reasons why the Russian Federation representatives were not present at the wreath laying ceremony in Tbilisi. "This is not accidental," the Minister noted "Firstly, we have no diplomatic relations with Russia, and secondly, the grandchildren of the people who fought against fascism in 1941-1945 used their [fascists'] methods and kicked out 400 thousand Georgian citizens from their own land as a result of an ethnic cleansing," Vashadze said. He congratulated the Russian people with the Victory day, saying "I am sure that in the nearest future, when there are normal authorities in Russia, as they call it 'vmenyaemaya vlast' -sane leadership, when Russia is a normal and democratic state, we will celebrate it together."
Deputy Foreign Minister, Nino Kalandadze made an additional statement on Medvedev's congratulatory message on Monday. "If it was a sincere congratulation, then it would have been made in an officially accepted form," she noted "But when it is done in such a form and such a big country is making such an unserious step and gives a very unserious face to a comment related to such an important day, I think that this was a reason for the Georgian Foreign Minister's irritation," she added. Kalandadze pointed out that "Russia is pursuing an inadequate policy towards Georgia."
She commented on Vashadze's initiative to mark Victory Day on May 8, saying that the issue is a subject of "wide discussions." "The attitude of the people, who participated in World War II will be taken into account," the Deputy Minister noted.
Some analysts suggest that celebrating a Victory Day on May 8 would be "more natural" for Georgia. "On May 8 the whole civilized world celebrates the victory over fascism. On May 9 the soviet empire celebrated its own victory, when it captured Prague and strengthened its positions in the Eastern Germany. I think it would be more natural to mark this day on May 8 rather than on May 9," Gia Nodia, member of the Council of the coalition "For European Georgia" said.
However some opposition leaders criticized the Georgian authorities' attitude towards the issue, accusing them of "speculating" with the subject. "Those who know history are aware of the fact that Germany signed capitulation act at 22.43 pm German time on May 8. By that hour it was already May 9 in Georgia and in the rest of the Soviet Union," leader of the Democratic Movement-United Georgia, Nino Burjanadze said "it is a mere speculation and it is a shame, when an unwise government is speculating with these kinds of dates," she added.
Kakha Kukava of the Free Georgia accused the Georgian authorities of "neo fascist" actions. "Veterams have been frustrated many times, including when a famous monument was demolished in Kutaisi. Now the government made another surprise and said that May 9 is a soviet day and that it should be marked on May 8," Kukava said "I call on them to stop making neo fascist actions and leave May 9 as a celebration day for veterans, for whom this is a sacred day," he added.