Tourism boom in Georgia expected to continue
By Salome Modebadze
Wednesday, May 11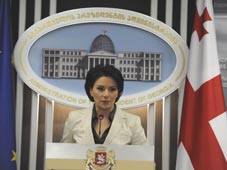 Manana Manjgaladze, the President Mikheil Saakashvili's spokesperson, shared Governmental plans for the upcoming touristic season at the traditional briefing on Tuesday. Emphasizing that the country has been moving to promote tourism, Manjgaladze said that corresponding Governmental bodies have already received instructions to intensify work in this direction from the President. According to the statistical information released by the press speaker, 674 409 tourists have visited Georgia in the first 4 months this year which is 43% higher than the figure for the same period in 2010.
Analyzing the encouraging rise in tourism for 2011, Manjgaladze stressed that a really huge number of tourists is expected to visit the country this year. "We are expecting the visitors all around the country with the renovated infrastructure and it can be said that we are fully ready to receive guests in any region," Manjgaladze said stressing that "our relief gives us an opportunity to suitably host the visitors both at mountainous or seaside regions". The President's spokesperson talked about the successful development of the tourism sector in Georgia, and emphasized that this would finally provide new investments and creates additional jobs in the country.
Meanwhile visiting Zugdidi on May 9 President Mikheil Saakashvili opened the departure line at Zugdidi airport and conducted the first flight on SESNA-type aircraft as a pilot. Promising the local population that the new airport facility designed by a famous Italian architect would soon open, Saakashvili said regular flights from Zugdidi will then be conducted in different regions of Georgia. "Zugdidi is a big city, with more than 100 000 people - this is why it has to be on the map and must have an airport as well. This is only the beginning because we are constructing 10 airfields as a whole. I promised people to open all airports by myself this is why I learned how to conduct planes," the President stated.
"However the highway will also come up to this place and it will be easier for you to move. So, Zugdidi will not be detached and it will become an important center," the President of Georgia promised Zugdidi population. The President also welcomed constructions of a big airport in Poti that will end in one year. Explaining that Poti airport will be the biggest airport in the Caucasus, Saakashvili highlighted that it will accommodate international flights.