New movement 'My Georgia' to bridge gap between Government and opposition
By Salome Modebadze
Monday, May 16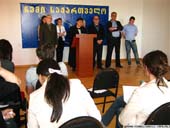 Former members of the late businessmen Badri Patarkatsishvili's political party presented a new civil movement "My Georgia" on May 14. The members of the newly established movement said they would monitor the ongoing political processes by assessing the government and opposition activities. Worrying of the political blind alley which the country may go down in the event of forecasted revolutions "My Georgia" started its official activities from today hoping to prevent any confrontation between the opposition and the police at the protest rallies.
Worrying of possible military confrontation, the members of the movement encouraged society to start seeking ways out of the dilemma and avoid the danger of returning to the 1990s. As Gia Kurdadze the founder of the movement stated "My Georgia" would try hard to play the role of a "protector" against possible complications between the sides.
Emphasizing that their established movement would do its best to hinder any violence in the country Eliso Kiladze Chairwoman of "My Georgia" spoke of dialoguing, debating and working on the electoral environment and even stressed that rallies are part of the political process. "Political parties should find the crossing point in the Georgian political space and act in the frames of policy. They should avoid the civil war and the violent withdrawal of the Government," she stated.
Encouraging the society to unite under the umbrella of "My Georgia" Kiladze expressed the readiness to change their profile into political party if necessity. "If the country would move to pre-election regime we would be ready for the decisive moment and become engaged in the electoral processes as a political party," she stated.
As the political analyst Ramaz Sakvarelidze stated the name of Badri Patarkatsishvili is still attractive for people for his philanthropist activities during his lifetime. "The newly established movement may be interesting for those who used to share Patarkatsishvili's aspiration [at the Presidential elections in 2007] but lots of things would depend on which policy "My Georgia" would follow," he said talking of the difficulties with starting the political activities.
Praising Patarkatsishvili for his polygonal interests and great potential Sakvarelidze added that "we shouldn't also forget how many unprofitable steps he made in politics." Stressing the necessity for having sufficient political appeal for further promotion the analyst explained that even if "My Georgia" lacked the relevant political ability they may continue working as a positive civil organization.
Talking of the level of trust needed towards the members of particular groups or organizations for achieving success in any activities analyst Soso Tsiskarishvili doubted whether the opposition and Government would cooperate with the chairperson of the newly established movement. "Motivation is an important part for launching any campaign and "My Georgia" seems to have interesting ideas [to play the mediator between the sides] but I wonder whether they have enough experience for following their goals," the analyst told
The Messenger
.