The sun eclipsed at Rustaveli theatre stage
By Salome Modebadze
Monday, May 16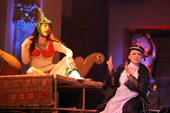 Georgia has its long-lasting traditions with different nationalities and lots of things have been written or staged about the multi-ethnical Old Tbilisi. The Sun Eclipse in Georgia directed by Gocha Kapanadze is among the significant plays uniting Rustaveli Theatre's prominent actors and actresses around Georgian novels. So many beloved characters from different Georgian plays filled Zurab Antonov's comedy with joy and created a very lively atmosphere on May 10.
Waiting for the sun eclipse in fear of a dragon, the characters of the play tried to admit their faults to one another and ask for forgiveness. Marina Kakhiani (Khanuma) and Mari Janashia (Kabato) played rival match-makers who finally become loyal friends. The two smart ladies made everyone believe in the existence of prejudice so that people fearing the dragon's punishment pardoned one another while Khanuma and Kabato made great love deals.
Opposing to let his only daughter marry a wealthy Georgian noble the Armenian character of Jemal Gaganidze (George) was astonished to find out that he himself had a Georgian father. Feeling frustrated from hearing the truth from his mother he finally blesses the marriage. The two-hour play had such an impressive impact on the whole audience that we all felt as if we were having a stroll in Old Tbilisi streets greeting our ancestors. The character of Guram Sagaradze even said a few pieces from Georgian poetry in his amazing manner and we all felt more thrilled.
Having been part of the Rustaveli Theatre audience I felt really proud of Georgia's past. Welcoming young people's interest towards the play actor Jemal Gaganidze shared his pleasant emotions with The Messenger. "Our much-loved Tbilisi is always an important topic for us. We are always eager to refresh our minds with the past memories of the capital," he said with a smile.