British Council offering help to English language beginners in Georgian
Tuesday, May 17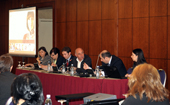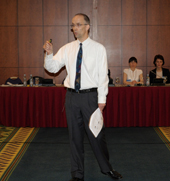 On May 12 with the support of the British Council the conference "English Language and International Qualification – the Road to the Future" was held. The conference was aimed at introducing English language and international exams programs of the British Council to the policy makers of the education field, English language teachers and service providers.
The conference was chaired by Lloyd Anderson, British Council Director. Doug McMillan, Deputy Head of Mission and Nodar Surguladze Deputy Minister of Ministry of Education and Science of Georgia all gave welcoming speeches.
In his official speech at the UN General Assembly in 2010, President Mikheil Saakashvili presented an ambitious programme for English, "to make sure that the doors for our future generation are open". In September 2011, it is proposed to issue a Ministerial decree, making it mandatory for all higher education students to hold a foreign language proficiency certificate.
In this context, the British Council is considered to be among the best, most capable advisors in English language learning and teaching. It currently provides online and face-to-face training for over 350 teachers and 10,000 learners while holding up to 3,000 British examinations a year.