Saakashvili hails Russia for wine embargo
By Mzia Kupunia
Tuesday, May 17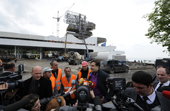 Georgian President, Mikheil Saakashvili visited the construction site of a renewed Sarpi customs office in Sarpi, Ajara. The President spoke about the importance of the border crossing point, saying that it will "ease" the procedure of crossing the border for the citizens of Georgia and Turkey, as well as for the citizens of other states. "They will not have to stand in long queues from the end of May," the President noted.
"I have been to many places during my life but I have never seen such a beautiful customs service anywhere. I am only concerned about one problem – the Turkish side will have much fewer exits than we have, which will probably create jams," Saakashvili said "That's why I am going to raise this question at the meeting with the Turkish Prime Minister, who will visit Georgia at the end of the month," he added. Saakashvili recalled the time when there were "unshaved" and "hungry" customs service officers at the border on the Georgian side, "waiting for a bribe." "Now the situation is different, due to changes made during the last two years, we have better customs services and border crossing points than our neighbours. Batumi should have the most beautiful border crossing point," he noted.
Saakashvili talked about "some radical group backed by Russia" which arrived in Batumi. "I saw on TV that they were bringing people in buses to hold some rallies here. The people left them in a couple of minutes, because those people had not seen Batumi. They were surprised and walked around. This is true about all tourists as well, because this town is really becoming a source of pride for every Georgian, the pride of every citizen of Georgia," the President said.
Later he visited a family of Devidze's and tried Georgian wine Ojaleshi there, President's administration reported. Saakashvili hailed the "progress" Georgia has made in terms of improving the quality of its wines. "The quality of wine has improved significantly during recent years. People have started making wine all over Georgia. The winemaking tradition did not spread to the Black Sea region of Georgia, however this tradition has started here now," he noted.
The President hailed the Russian embargo on Georgian wines, saying that the embargo has "done a good job" in terms of raising the quality of Georgian wine products. "Now we are in the position when if they let our wines to their markets, it will be good, but if they do not, it is not a big deal – the market is all over the world," he stated "when we will have 5 million or more tourists, hopefully we will have some wine for export. For example, Greece cannot export its wines abroad, because they consume all of their wines, and meanwhile we have wines which are of much better quality. The situation is the same in Israel, Portugal and in a number of other places. So it makes sense to make wine here," the President added.
When visiting a construction of a church in Sarpi, Saakashvili talked about the symbolic meaning of the church for Georgia. "We are not building only a customs gate here, but a gate of Georgia. This is a main state border and this Georgian church should have been very beautiful here," Saakashvili noted.