Opposition not united for May 21 rally
By Gvantsa Gabekhadze
Wednesday, May 18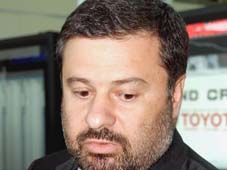 The opposition Georgian Party is ready to hold consultations with Representative Public Assembly regarding the street rally planned by the Assembly for May 21. A statement concerning the issue was made by one of the leaders of the Georgian party, Erosi Kintsmarishvili, on May 16.
"Based on the current reality and people's expectation from the process, we are ready to start consultations regarding the May 21st street rally with Nino Burjanadze and Representative Public Assembly. This is the political decision of our party; we have done everything to start this process, "Kintsmarishvili, said.
The Representative Public Assembly has no time for consultations, as only three days are left before May 21, However Burjanadze has not prohibited anyone from standing with them, "we have already drafted the plan, how we would act after May 21 and following period .there is no time for useless talks, everyone who really wants to save the country, should stand with us," Burjanadze said.
The political party Free Georgia, welcomed the Georgian party's suggestion and expressed their wish to play the mediator's role in the process, "we are ready to take part in the coordination process of all political forces, which are not engaged in open or closed collaborations with the current authorities," the party press service said.
Those parties, who are still trying to change the reality through elections, will definitely not stand with Representative Public Assembly or with the Georgian Party at the street rallies, "we must leave changing the authorities by force as a last resort. Georgian statehood will not be strengthened by such actions. We have already chosen the right way, meaning changing of the election environment in the country and changing the authorities by free elections, "Leader of Our Georgia-Free Democrats, Irakli Alasania said adding that he could also understand those who were not content with an authoritarian regime. However, according to Alasania, those forces should realize that the only way to progress is through democratic elections.
Radicalism is the sign of weakness, Analyst Giorgi Mamulia considers. As he has stated compared with 2007-2009 years radical opposition is very much weakened and he supposes that they will not have the support of the Georgian society, however there is one point to which the analyst is paying more attention, "unfortunately, ambitious politicians which are not supported by the people can easily become the object of the Kremlin's imperialistic manipulations."