From Alps to the Caucasus
By Salome Modebadze
Thursday, May 19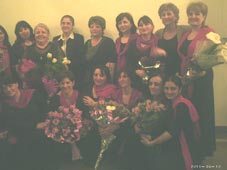 The small hall of Tbilisi State Conservatoire hosted an amazing concert performed by young girls' singing company Tutarchela on May 12. With the support of Tutarchela's three generations, the author of the initiative Tamar Buadze organized a wide scale project uniting the folk songs from various countries where the girls performed the folk songs from a Georgian and foreign repertoire in the frames of Rustavi Folk School Festival From Alps to the Caucasus.
Having been established in 2004 in Rustavi under the guidance of Tamar Buadze, the girls' choir performed European and classic songs as well as folk songs from all the Georgian regions and different countries. Tutarchela cooperates with the European women choirs and the company often performs in Switzerland and Germany and shares the wonderful Georgian songs with the European audience.
Sharing her inspiration for the concert Nino Basilashvili Chairwoman of Kvemo Kartli Regional Development Service thanked the organizers for their "colossal work". "As the citizen of Rustavi I must say that this is a unique event. I haven't listened to a Swiss performance before but I'm sure that they would have been amazed with Tutarchela's performance," she told us. Proud of Tutarchela's activities Basilashvili promised she would mediate the company with Kvemo Kartli's Government to record Tamar Buadze's choir as the symbol of Rustavi's success.