Legendary actress Chakhava fondly remembered
By Salome Modebadze
Friday, May 20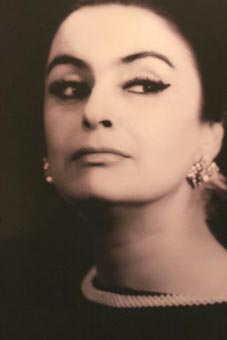 Famous Georgian actress Medea Chakhava would have turned 90 years old this year. On that occasion on May 17 Rustaveli Theatre with the support of Tbilisi City Hall dedicated an unforgettable evening to the late Georgian star at the hall where she performed her final role in "The Old Jokers". Expressing their great devotion to Medea Chakhava as their special friend, Jemal Gaganidze and Kakhi Kavsadze, actors of Rustaveli Theatre, recollected the most special features of the actress which made her so special for the whole of Georgian cinematography while Guram Sagaradze dedicated her a love verse with great tenderness.
Confident in the eternity of her soul the three actors remembered how Medea's hand was trembling like a bird's heart during the final play. "We all felt as if she were saying good-bye to the whole audience before her final sleep," the actors agreed unanimously. In the extracts from Georgian Public Broadcaster's (GPB) program Memory (Mekhsiereba) taken in Chakhava's lifetime, the actresses expressed her great respect towards her profession as her greatest responsibility. The woman with typical Megrelian spirit had been amazing both in comic and dramatic roles.
The entrance to the hall was decorated by portraits of the actress from her family album and her theatrical and cinema roles. The audience of Rustaveli Theatre's small stage was full of the late Medea Chakhava's family and friends who gave spontaneous speeches in commemoration of the gifted actress. With tears in their eyes Zinaida Kverenchkhiladze and Tamar Skhirtladze spoke of their special devotion to their late colleague who was always eager to help others in dealing with their personal misfortunes.
Remembering how excited she was to become Medea's doubling actress Guranda Gabunia spoke of Chakhava's great generosity to the audience. "Medea had some health problems at that times and used to miss the rehearsals. But when she finally came to the theatre and saw my performance she smiled at me saying that she would refuse to play the central role thus gave me the greatest challenge," the actress said highlighting how difficult it is for an actor to make such a step and let others play your part.
Expressing her gratitude towards the supporters of the event Maka Makharadze the daughter of Medea Chakhava recollected how her mother loved life and wanted to reach an elderly age in good health, surrounded by so many beloved people. "What was the most important thing in today's event was to feel Medea's soul with us and I think this goal has been achieved. Today her soul was there among the people who loved and appreciated her," Ia Sherazadashvili Manager of the Project told
The Messenger
.