Social workers – key to success of the Child Care system reform
Monday, May 23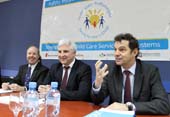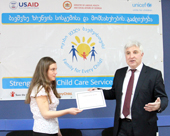 Thirty social workers have officially been inaugurated at a special graduation ceremony held at the training centre of the Social Service Agency of Georgia on May 19. Andria Urushadze, Minister of Labor, Health and Social Affairs, Kent Logsdon, Deputy Chief of Mission of the US Embassy in Georgia and Roeland Monasch, UNICEF Representative in Georgia have handed over graduation certificates to the social workers who will support the implementation of Child Care reform all over the country.
In total, fifty social workers have been recruited in partnership with the NGOs Every Child and Save the Children and they are going through a comprehensive training in May-August facilitated by the Georgian Association of Social Workers. These social workers include beginners, without any academic background in social work, as well as those holding BA and MA degrees in social work from the newly established social work academic programmes of the Tbilisi Ivane Javakhishvili State University and Ilia State University. All of them have been trained at short- or long-term learning courses relevant to their initial knowledge and qualification.
After completion of the training courses, the social workers will be fully prepared to take on social work functions and 30 of them will be hired directly by the Government social services.
The role of social workers is key in reforming the child care system, the main goal of which is to ensure that every child in Georgia grows up in a family environment. Social workers assess children and families and define needs and priorities for them; they participate in selection of a type of care and support children and families require, and then participate in providing agreed care and services. Social workers are also the ones who monitor the situation of children in a selected care service whether it is a foster care, small-group home, day care centre or a family.
"Social workers have been crucial in securing a success of the child care reform which have so far resulted in reduction of a number of children living in institutions from 5000 to 1220 over the last five years", said Roeland Monasch, UNICEF Representative in Georgia. "It means that so many children now enjoy a family environment where they can better excersize their rights and receive better services and care.", Monasch added.
Strengthening the role of social workers is part of the Child Care System reform and the Plan of Action for 2011-2012 led by the Government of Georgia in partnership with UNICEF, EveryChild, Save the Children, First Step and Children of Georgia and with the financial support from USAID. The reform envisages closing down of all the remaining large scale institutions in the country; strengthening of social work; expanding the quantity and quality of foster care; scaling up the number of small group homes, each catering for no more than 8-10 children; and strengthening of services for prevention of child abandonment.